Since I talk a lot about clean eating in my series, A Real Picture of Post-Pregnancy, I thought I'd share my actual meal plan with you! That being said, I'm not a nutritionist, diet coach or any sort of an expert. I'm simply a new mom on a loooooong journey to lose 52 pounds of baby weight I gained after the birth of my third baby in 4 years. (And so far, I'm down 26 pounds! Hollaaaaaa.) Consult your doc before starting any sort of a diet plan.
Eating clean is all about planning ahead. As a mom of 3, it seems like everything in my life needs to be scheduled and planned, or else it won't happen. And eating clean is no exception. If you make the time to food prep, you will eat well! (Seriously. This plan, along with working out, helped me lose 7 pounds in 1 month, 3 months after giving birth.)
Here's how I do it:
1. Every Sunday, I go grocery shopping and plan my meals for the week. It's not that complicated. It just takes a few minutes. Here's an example of my weekly meal plan:
(In case you missed last month's post, this is the recipe for Lo's amazing clean-eating chocolate banana smoothie. It. Is. So. Good. Even my husband requests it.)
At the top of the sheet, I have a few boxes where I like to write in my sleep, exercise and water intake for the day. Each day, you should aim to drink water that amounts to half your body weight in ounces. For example, I weigh about 180 pounds right now, so I try to drink at least 90 ounces of water. (I talk more about that here.)
2. Every Sunday and Wednesday, I food prep.
This means I cut up raw veggies and put salads into individual storage containers. Most days, this is my lunch, and also the lunch I send to work with my husband. I'll also make some salad dressing and that also goes into the storage container. (My favorite combination is: olive oil, balsamic vinegar, dijon mustard, minced garlic, salt and pepper.) This way, when it's time to pack my husband's lunch, I am literally just grabbing the storage container and putting it into his lunch bag. It is that simple. (And I can do it with a baby on my hip. Which is all the time.)
Sometimes, I also cut up dinner veggies and section them out into resealable plastic bags. Even if it's for a dinner that's a couple days away, it's still more efficient for me to cut up all the veggies now, so that there is less for me to do on the actual day of the dinner (and again, a baby on the hip). The food is still totally fresh and delicious, and the benefit is: we're actually eating it, rather than letting it spoil in the fridge because it's 5pm and the baby is screaming and everyone is starving so we order pizza.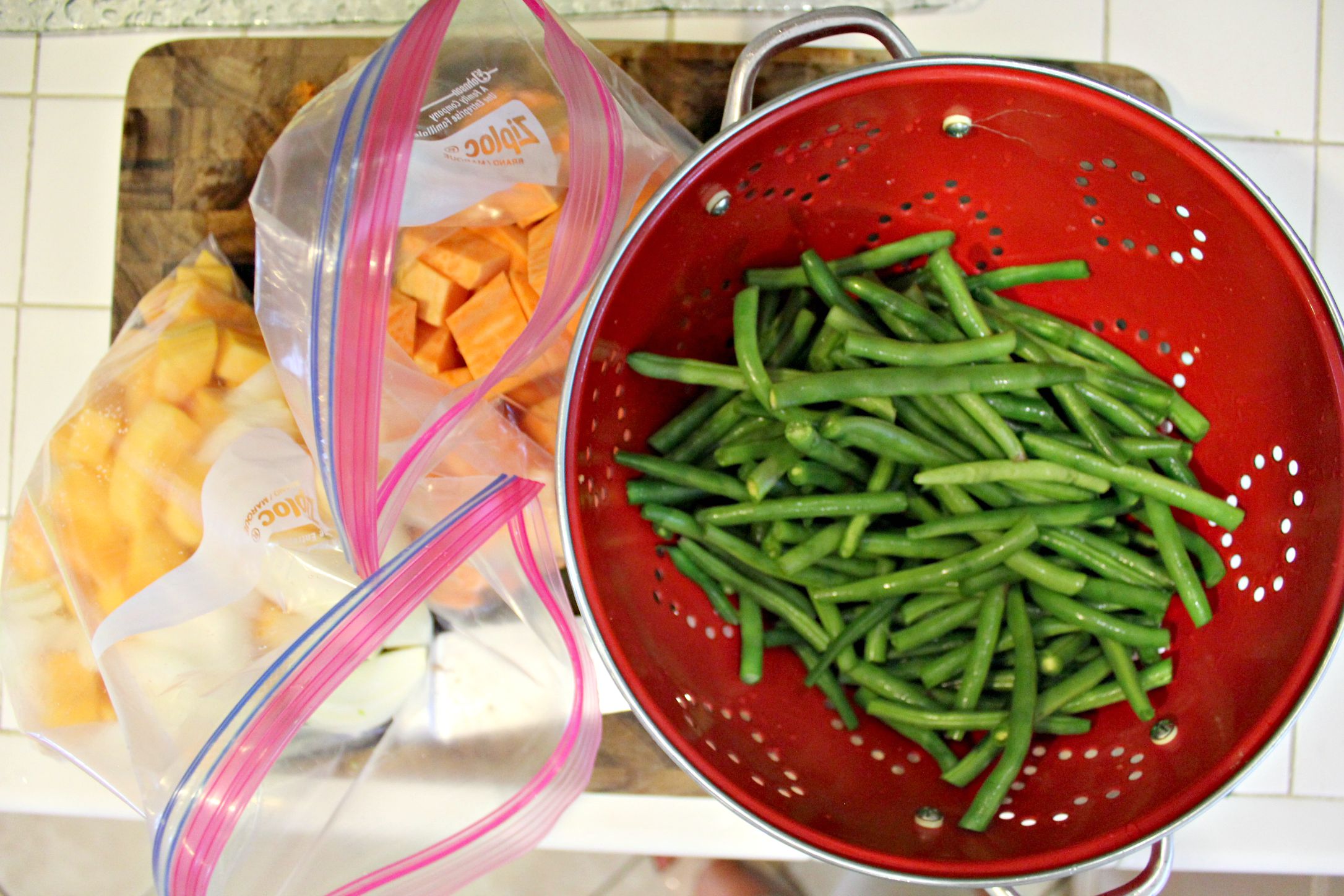 3. Everyday, I have a plan.
Of course, I don't always stick exactly to this meal plan, but the sheet is posted on the fridge for me to use as a guide. Generally, I follow this strategy everyday:
7am: Green smoothie for breakfast. (I've shared several recipes on the site, including my very favorite green smoothie recipe!)
9am: Mid-morning snack. Usually, this is raw veggies, hardboiled egg, almonds, banana or apple. It can be hard to find clean-eating snacks that are portable, so I wrote a list of my favorites here.
11am: Lunch. This is almost always a salad from food prep day. When I get bored of the salads I'm making, I challenge myself to change it up and bring in new veggies. My latest favorites are red cabbage, raw green beans, sprouts, and I've also been adding black beans, corn and cilantro to my usual salad staples for a little southwest flair. I live on the edge, what can I say.
1pm: Second lunch. (Yes, I'm a pig.) Usually, I reheat a very small portion of last night's clean-eating dinner.
3:30pm: Afternoon snack. This is tough time of day for me, as the kids are usually napping and I want to reward myself with food for getting through the morning. I tend to crave something sweet and crunchy. (I call it my secret snacking behavior, and I wrote a post about my constant struggle to conquer it.) Lately, I've been turning to herbal tea (I love cinnamon or peppermint), dehydrated banana chips or fat-free Greek yogurt with almonds and honey on top. Or, I'll grab a 3-ingredient clean-eating energy bite from the freezer. (On food prep day, I make a big batch of clean-eating energy bites and put them in a large resealable plastic bag in the freezer. Then, when I'm craving a sweet, I take 1 out of the bag, let it sit on the counter for about 5 minutes and eat it. It keeps me from overeating, and totally hits the spot!)
5pm: Dinner. I try to change it up, but let's be honest, I'm in a dinner rut just like every other mother out there. Mostly, it's my favorite roasted veggies, chicken in the slow cooker or a healthy Mexican meal.
4. I have 2 cheat meals per week.
Let's be real. If I'm eating a salad for lunch every day, I better have the promise of greasy pizza and the cocktails of my choosing at least once a week. So, every Friday and Saturday night (usually), I designate as my cheat meal. This means that I can eat whatever I freakin' want. Sometimes, I go totally crazy and eat everything in sight. But mostly, I don't. I have a few things that I'm really craving, and then I stop. Scheduled cheat meals are also helpful if you have social events during the week. If it's Wednesday night and I'm out to dinner, then I make that my cheat meal. The next morning, I wake up and instead of feeling discouraged because I didn't eat carrot sticks and grilled chicken for dinner, I feel good because it was part of the plan, and I'm motivated to get back on the wagon. That was my cheat, it's over and it's time to move on.
What are your favorite on-the-go, clean-eating tricks? And better yet, save me from my dinner time rut! I'm all ears for your fave recipes and dinner tips in the comments section below. And don't forget to subscribe to keep in touch with me on the baby weight loss journey!