When I was a TV reporter, I did a story once on how often you need to go through your fridge and look for expired food. To do the story, I had an expert dietitian come to my house, and on live TV, she went through my fridge and basically told me that practically everything in my fridge door was expired.
Gross. And embarrassing. But mostly gross.
Avoid a similar situation for yourself and check out your fridge. Especially the condiments.
When you do, if you're anything like me, you're going to have tons of salad dressings, salsas and other toppings that are like a month away from being expired. (Am I the only one with like 7 mustards at a given time?) Congratulations, you now have a month's worth of slow cooker meals.
Here's what you do. You are going to use your nearly-expired condiments, plus a little water (if needed), to cook meat in your slow cooker. This could not be easier. I realize the way I'm explaining it makes it sound a little gross, but it's not. It's actually delicious, healthy and not costing you anything. Soooooo, what's not to love? (Nothing? Yeah, that's what I thought.)
Today, it was salsa and chicken. I was running out the door to go blueberry-picking with our free Friday playgroup, when I realized I had nothing prepared for dinner. I looked in the fridge and spotted a half-used container of mango salsa that we'd used for Porter's Gilligan's Island birthday party a few weeks ago. So all I did was throw some chicken breast in the slow cooker, put all the salsa in, then put the salsa container under the faucet and fill with about 3 additional cups of water, close the lid to shake up the salsa and get every last morsel out, and pour it all in the slow cooker. Cook on low for 8 hours. Dinner. Is. Done.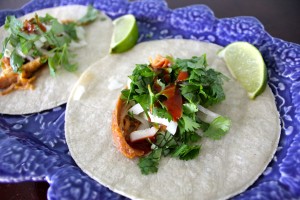 I made it in 5 minutes and didn't even get my hands dirty. And now I have something to justify the 4:30pm Modelo Especial I really needed after our toddler's post-nap meltdown.
(Oh, and I happened to have thawed chicken breast, but I totally could have used frozen too. I do that all the time.)
So again, here's the method:
Put meat (frozen or thawed) and leftover condiment items in slow cooker. Add enough water to cover the meat. Cook on low for 8 hours.
Here are a few combos to use what you've got:
leftover mustard with honey, pancake syrup or jam
leftover salad dressing
leftover barbecue sauce
leftover soy sauce with lime juice, minced garlic and/or ginger
leftover ketchup with apple cider vinegar, brown sugar, worcestershire sauce and garlic
leftover hot sauce with lime juice and minced garlic
Now instead of going in the trash, you can line up your nearly-expired condiments like little soldiers. Come on, give them a salute too. Because they are delicious. Aaaand saving you money.
Any other combinations you use in the slow cooker? Share them in the comments section below.