Last year, we bought a home, spent 5 weeks renovating the inside, moved in and found out we were pregnant with our fourth baby. Then Hurricane Irma trashed the outside of the house, so we redid the entire exterior. Then our baby was born. It's been a whirlwind of a year and a half, but I'm finally getting around to the house tour you've been asking for! It's only taken almost 2 years. *wink* #thisisreallife
Well, you've seen our great room, kitchen and sunroom, and our bedrooms.
So today, I'm showing you a couple of my favorite rooms in our house, and believe it or not, they are our bathrooms!
For some reason, it's just so fun for me to renovate bathrooms. Since they're small, I feel like you can really take risks, like adding punches of color or fun whimsical elements, and it just works. It's also inexpensive to change if you decide you don't like what you did.
In our renovation, I hadn't set out to update these bathrooms right away, but while we had contractors here, it just made sense to have them redo these small spaces as well. For instance, our tile guy retiled our guest bathroom wall while he was waiting for more materials to come in to finish our great room floors, and as a result, he didn't charge as much as he would have to come out just for the bathroom.
Pool Bathroom
The dark brown paint on the walls of the pool bathroom just wasn't my taste, so I knew we needed a quick paint facelift. At first, I wasn't sure that my paint choice of Summer House by Behr would be a good fit in the small space, since it's pretty bold, but it totally flows and I love it!
Our carpenter used some of our leftover wood planks from the shiplap headboard in our master bedroom to create a shiplap effect under the medicine cabinet, which I love! I found this marine bulkhead light on Amazon
, which doesn't put off great light but I loved the nautical effect, and it's been perfect.
I first planned to find a big art piece to put behind the toilet, but I couldn't find anything I loved, so since I have so many photos of the kids at the beach or on the boat, I put together some of my favorites and framed them in inexpensive white Walmart frames. I just love going into the bathroom to gaze at my babies through the years, and my handsome hubby of course (that's him surfing in college, in the top left pic).
Guest Bathroom
I wasn't planning to redo this space, but as I mentioned earlier, when we had our cabinet painters and tile crew at our home, it was relatively inexpensive to have them do this small bathroom as well.
And I'm so glad we did. The Tuscan tiles and off-white walls just weren't my taste.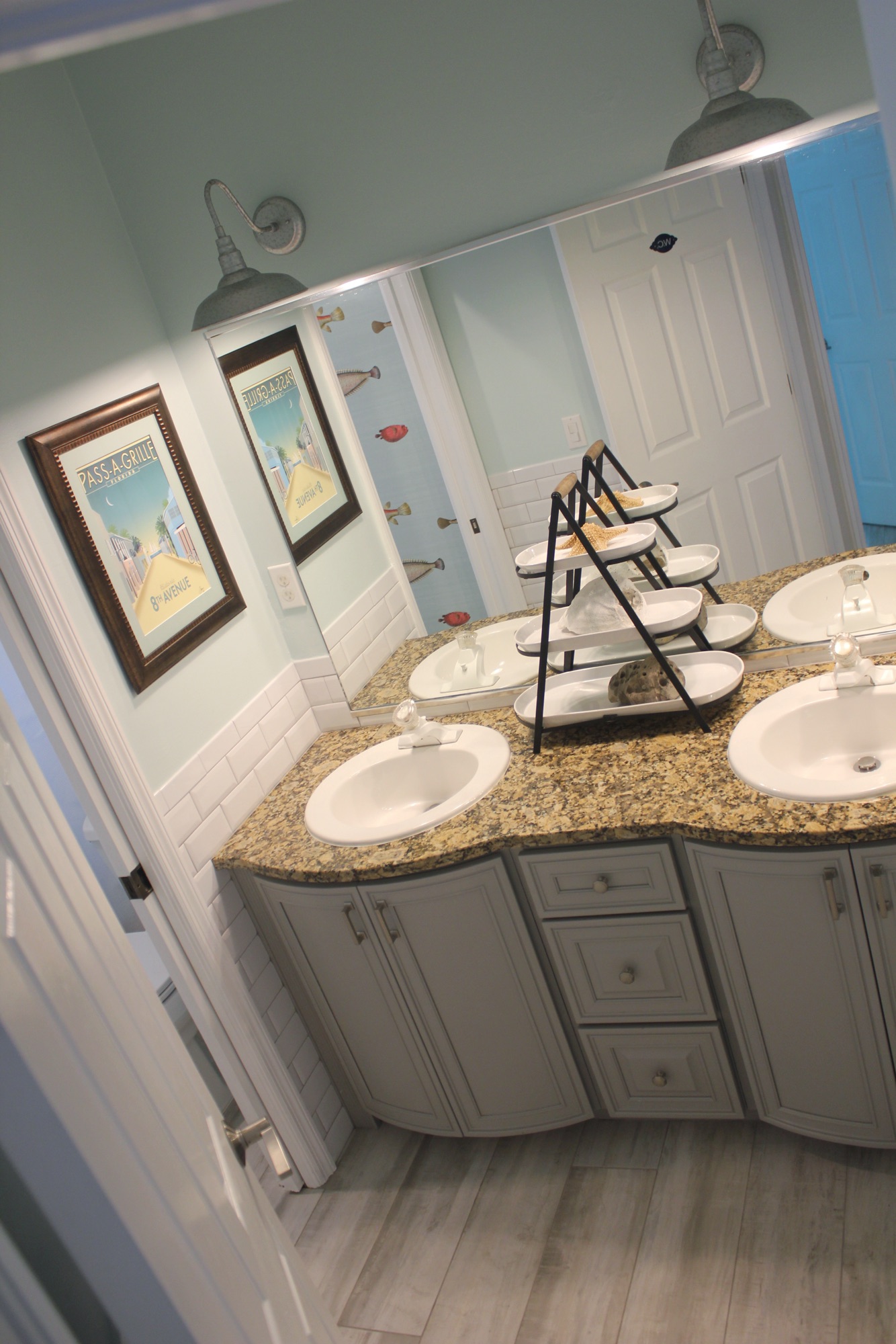 We had them paint the cabinets a light gray, and we swapped the Tuscan-style wall tile with simple white Subway which is more in-line with my taste. Instead of the 90's-style ball lights, I brought in a pair of inexpensive galvanized sconces that I found at Home Depot. I'd love to swap out the sinks and faucets at some point, but it wasn't essential, so we'll do that later.
I wanted an unexpected pop of whimsy in the toilet room, and I found this fish wallpaper that I am obsessed with! We are huge fans of the Netflix show Bloodline, and we noticed one night that they had this awesome, whimsical fish wallpaper in the living room, so I Googled it and found it. The wallpaper was extremely expensive, and finding someone to hang it wasn't cheap either, but I was able to be cost-effective in other areas of the house, so I was comfortable splurging on it. I've never regretted it!
Got any questions? Feel free to send them my way via Instagram or Facebook! And make sure you're an email subscriber so you don't miss next week's post about how Hurricane Irma forced us to renovate the entire exterior last winter.
Share on Pinterest:
This post contains affiliate links, which means that I make a few pennies for sharing links to products I like. It doesn't cost you any more. Every bit helps me keep my site up and running, so thank you!