Last year, we bought a home, spent 5 weeks renovating the inside, moved in and found out we were pregnant with our fourth baby. Then Hurricane Irma trashed the outside of the house, so we redid the entire exterior. Then our baby was born. It's been a whirlwind of a year and a half, but I'm finally getting around to the house tour you've been asking for! It's only taken almost 2 years. *wink* #thisisreallife
First of all, thanks for all your sweet comments on my first few house tour posts! So far, I've taken you guys through our great room, bathrooms and bedrooms.
Today, I'm going to show you our kitchen and sunroom.
Kitchen
When we bought the house, all the appliances in the kitchen were good (well, except the fridge, but that's a whole separate post), but as you can see, the area needed a major facelift.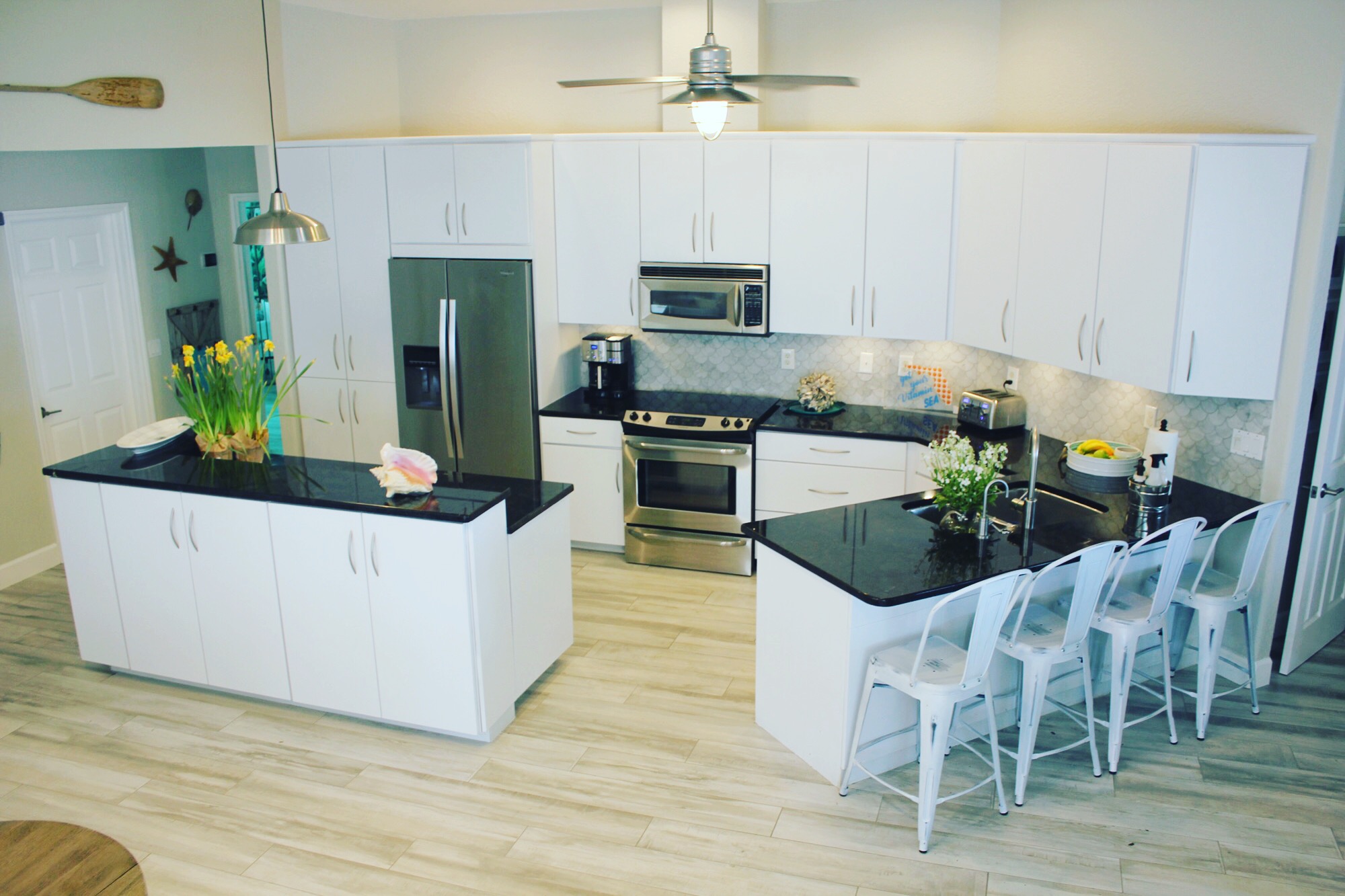 Painting all the cabinets made a huge difference! We had them all painted Maui Mist by Behr. We also had a crew tear off the metal backsplash (they were like these weird sticker tile things), and our tile guy installed these Carrara marble fan tiles. They remind me of fish scales, and I love them so much! I lovingly call it my "mermaid kitchen." (Because when you have 3 sons, sometimes you just have to do something girly that's just for you. *wink*)
We also got rid of the embellishments on the range vent so that the eye stays level with all the details below.
At first, I really wanted to replace the black granite countertops with white, but it wasn't essential, so we held off, and now I actually kind of like the black because it anchors the space amidst all the white and gray in the room.
If you look closely at the photo above, you can see the crack from where my kids literally broke the corner of the countertop totally off with a hockey stick (again, how does this even happen?). This ain't my first rodeo, so I didn't even waste energy getting mad. I just pulled out the Gorilla Glue
, plunked that granite chunk back where it went and called it a day.
Not including the floors, our whole kitchen upgrade cost less than $5K. Painting the cabinets was about $4K, and the tile work was around $800.
Sunroom
Since we bought this house for the view, I wanted to make sure that all the details in the sunroom were simple and easy. So, we didn't do much!
We updated the flooring, and added in some furniture elements.
If you look closely, you might spy a super special newborn as well! I took these photos a few days after she was born. (She's now 9 months old, if that tells you how long this post took to write LOL.)
I searched high and low for low-backed chairs that wouldn't block the windows, but were also comfy and cozy, and I'm beyond obsessed with the pair of Stocksund armchairs I found at Ikea. Again, they are washable, and I love the blue and white stripe print because it's super nautical and cute. It looks like Ikea still has the chairs but is no longer selling the print, which is shame because it's my favorite part about these chairs.
You might recognize this spot from all my Facebook Lives! I often sit here because the lighting is so great!
Got any questions? Feel free to send them my way via Instagram or Facebook! 
Share on Pinterest:
This post contains affiliate links, which means that I make a few pennies for sharing links to products I like. It doesn't cost you any more. Every bit helps me keep my site up and running, so thank you!