I received product and compensation from Mead Johnson Nutrition to create this post written by me. All experiences and opinions expressed in this post are my own and not those of Mead Johnson Nutrition. You can contact Mead Johnson Nutrition with product-related questions or comments toll-free at 1-800-BABY-123 (1-800-222-9123).
I breastfed my first 3 kids, but when the fourth came along, it was just too much. I tried hybrid feeding, and it's been awesome, so I wanted to share how it worked for us.
When you have 4 kids, people think you're an expert.
Which is hilarious because I can assure you I'm not.
But in the last 7 years of mothering, I have learned something huge. And it has changed everything for me.
I give myself grace. Because I'm doing the best I can.
You know what?
There is no Supermom award for being the most tired, overworked mother.
There is no misery award for the mom who does the most for their family, at the expense of themselves.
There is none of that. That is not motherhood.
Motherhood is not a race to get thin, to be perfect, to be happy all of the time.
Motherhood is simply doing the best you can with what you have today. And letting that be enough.
For me, now that we have 4 kids, this means accepting help when I need it, and not feeling ashamed that I can't do it all myself. (I made a huge plunge into that pool by hiring an au pair who now lives with us and helps with the kids 45 hours a week.)
And when it came to feeding our fourth baby, I kept my VIP seat on the no-shame train.
For our first 3 kids, I breastfed exclusively. But when we found out we were having a fourth child, I decided immediately that if I needed to supplement with formula, I would.
Once she was born, I started out breastfeeding exclusively. But when she hit about 4 months, things started getting hard.
With 3 active sons, ages 3, 5 and 6, it was all I could do to sit and nurse her while the boys watched Disney Junior.
My supply was going down, and it was getting to be too much.
I couldn't watch the boys in the pool if I was feeding the baby, because if I was outside, she'd be too distracted to latch on.
For a few more weeks, I kept hanging on, even though my supply was decreasing, and I was feeling stressed. I was also craving independence and wanted to start working out again.
Then, a close friend, who I'd already told of my no-shame plans to supplement, asked why I hadn't started yet.
"I don't know. I guess I'm waiting."
"Waiting for what?" she asked.
By God's grace, that day, someone I don't even follow on Instagram posted something about hybrid feeding, and I read it.
In that moment, I decided I was going to stop putting pressure on myself to feed my baby any certain way.
If she is fed, that is what matters.
I'm not settling or being less of a mom, or being a lazy mom.
I'm doing exactly what I need to do.
I'm feeding my baby.
We experimented with a few formulas. I'm super glad we finally found Enfamil NeuroPro™ Gentlease®  and made the switch because it agrees with her tummy, and she has really taken to it. NeuroPro Gentlease® has small, gentle easy-to-digest proteins.
Now, when I want to watch my sons in the pool, I can!
I love that I can be in the moment, engaging with the family, and I don't have to remove myself to the baby's room in order to nurse (since she was so easily distracted).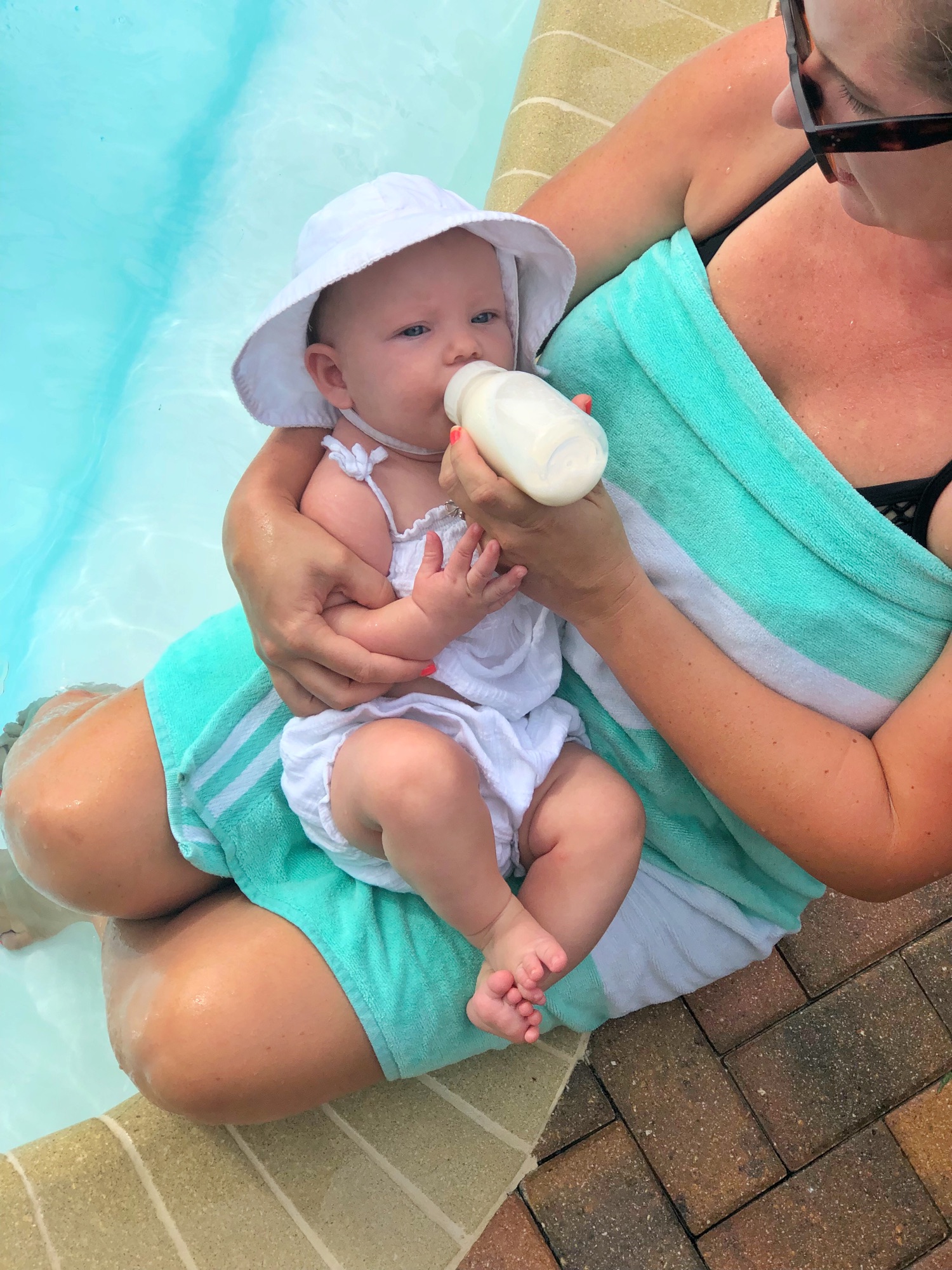 Hybrid feeding has allowed me to be there for my other kids; for the cannonball contests, boat rides, and sailing camp. (This is not to say that breastfeeding doesn't allow that. But for me, it was a hurdle.)
For the next couple of months, I nursed her in the morning and at night, and eventually, she just wasn't interested in it. I made the choice not to get upset about it. Instead, I told myself, 'This is so good! She loves it, and I love it. It's a win-win.' And that is the truth.
Oh, and there's one other great thing about it: I can employ my little helpers to help at feeding time too!
And who can argue with that adorable sight?!?
Have you tried hybrid feeding? How did it work for you? Share your experiences over on the Facebook page. And a big thanks to Enfamil® Gentlease Infant Formula for sponsoring this post! Visit https://clvr.li/2z5X0wK or call 1-800-BABY-123 for more information and to request a free sample.
This is sponsored by Enfamil® Gentlease Infant Formula.
Don't forget to watch this Facebook Live, where I dive into my insecurities when it comes to feeding my baby, along with my favorite no-hassle ways to make baby food with what you already have.