I make my own baby food because I care deeply about my children eating only the best in organic food.
Just kidding.
I'm actually just REALLY CHEAP.
(That is no dis to the moms who commit to organic eating! I admire it, I respect it, I think it's awesome, but it's just not something that I do.)
Making your own baby food is really simple. There are lots of websites and blogs out there that like to make it sound as complicated as serving a five-course meal to Wolfgang Puck. But, I assure you, it's not.
Here's what you do: steam the food, then puree it. Yes, that is it. Still, I wrote a whole tutorial on it. Then, I transfer the puree to ice cube trays, put them in the freezer for a few hours until they're hard, and transfer the "baby food ice cubes" into large freezer bags labeled with what's inside. Then, I fill the ice cube trays with more baby food puree, and repeat the process until I'm out of puree and I have tons of freezer bags full of "baby food ice cubes."
When I'm ready to feed my baby, I put three to four "food ice cubes" in a mug, and pop it in the microwave for 90 seconds. It comes out a little warm, so I throw two (regular water) ice cubes into the mug, some spices, and mix it up until it cools down.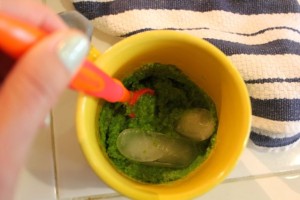 On that note, don't be afraid of adding spices. In my experience, babies WANT to try new tastes and flavors. I read somewhere that Americans seem to think they need to give their babies bland and spiceless food, but really we don't. There are plenty of Middle Eastern and Asian cultures (India, for example) where spices, even those with a lot of heat, are very common. The babies eat what the adults eat, spice-wise, and they are no worse for the wear. I've never shied away from giving my babies spicy foods (even a bit of hot sauce), and they have never had any stomach issues.
Note: I am simply sharing my own experiences. I'm not giving you advice, or claiming to be a doctor. Far from it. I can't even tell you what I did yesterday.
I like to add spices when I'm reheating the food, as opposed to when I'm initially steaming and pureeing it, because it allows me to give my babies more variety, and I can change it up. Otherwise, I'd have 50 cubes of frozen corn that all tasted the same. Some of my favorite go-to combos are: cumin and garlic salt, sage and onion powder, cinnamon and nutmeg. Again a lot of websites and books try to make this a complex thing. Just throw in a little of this and a little of that. I promise, your baby won't look at you and say: "How dare you put sage in my peas instead of basil!"
When I'm making baby food, I do a ton at once. And being that each of my boys ate pureed food for only about three months (the time between when they were exclusively breastfed to when we introduced table food), I normally don't even have to make that much. I promise, it's not as overwhelming as it seems.
If you're just getting started, let me save you a TON of money with these tips:
Frozen vegetables are cheaper. With few exceptions, you'll save tons of money by bypassing your grocery store's produce section and going straight for the freezers. (If you're concerned about freshness, consider this: depending on where your produce is coming from, the frozen stuff might be more fresh than the "fresh" produce because it's flash-frozen within a few hours of being picked, rather than sitting on a truck for days on the way to the grocery store.) I'll usually look for giant bags of peas, corn, broccoli, cauliflower and even okra. Basically, whatever they have.
Price-wise, there are a few things worth buying in the produce section. Fresh carrots, sweet potatoes, zucchini, summer squash, bananas and in-season berries will likely be cheaper than their frozen counterparts.
On that note, don't bother cooking and pureeing apples. Just buy unsweetened applesauce. If you look on the ingredients, it's literally just apples and water. Again, if you're purely concerned about savings, skip buying the apples, peeling them, dicing them, cooking them, and pureeing them. You'll spend about 10 times as much money and time to make the same amount. (That's not to say homemade applesauce isn't delicious. In fact, I love this Crockpot recipe for it. However, the goal of this post is helping you save money, not making your house smell amazingly cinnamon-y.)
Also, don't bother pureeing bananas. They basically become a dark brown saliva-looking liquid. Not very appetizing. Instead, keep them in their peel and just mash them with a fork right before your baby's ready to eat.