It's a little-known fact that parents age at a velocity that's directly proportional to the number of kids, multiplied by nights spent awake with them, dealing with separation anxiety or sickness (for barf, multiply by 2), divided by the number of family members nearby to help, plus the average number of kid feedings per day (for the nursing/bottlefeeding years, add 5 here), minus kid-free vacation days away, times the median number of tantrums per day (for food-related tantrums, like a meltdown over a broken rice cake, add 14 here), plus the average number of laundry loads per week. By this calculation, in the last 3 years, I've aged by approximately 189 years. And that requires a lot of under-eye concealer.
Look Mama, we all know you're not getting 8 hours of sleep, but here are 8 tips to help you look more awake. Including how to get rid of bags under eyes. Pronto. (Scroll to the bottom of the post for links to all makeup items mentioned!)
In my 8 years as a TV news reporter and anchor, I'm pretty sure 6 of them were spent working the morning shift, which meant starting my work day anywhere between midnight and 3:30am. After hours spent at Sephora with TV image consultants, I definitely know how to mask a tired face (I even have some less-than-1-minute tricks that don't include makeup!). I hit up my friend and makeup artist Hollie O'Brien, who works at HSN and on various TV and commercial projects, for some help in putting together a list of no-fail ways to help you look less tired.
1. Under-eye night cream.
I finally bought some of this around 32, when I realized that having kids was increasing my aging by 7-million percent on a daily basis. Since I didn't want to break the bank, I Googled the best drug store under-eye cream and ended up buying Olay Total Effects anti-aging eye treatment
. (For a few bucks more, O'Brien also recommends Korres anti-aging & anti-wrinkle eye cream
.) Night cream can do many things for you, including hydrating, correcting dark circles and preventing wrinkles and baggy eyes. O'Brien says a few of the ingredients you can look for in an under-eye cream are: Retin-A, which helps the skin renew itself; caffeine, which makes the under-eyes appear less blue; and hyaluronic acid, which plumps the skin.
2. Drink water.
Duh! You know this. And, it really works to create a healthy glow that makes you look years younger. I try to drink at least 80 ounces a day, and in fact, it was one of my biggest goals in the 3-Day Feel Amazing Challenge. If you don't drink enough water, your skin will be dry and flakey, and that, my friend, means you will look older.
"I can always tell when someone sits in my chair if they drink enough water," O'Brien says.
3. BB cream.
In case you haven't heard of it, BB cream stands for "blemish balm," and it started in Asia. It's just a very light foundation that usually includes moisturizer. Perfect for the busy mama who wants a little bit of glowy coverage that won't rub off on the baby's swaddling blanket. I use L'Oreal Magic Skin Beautifer BB Cream
, but there are tons of options out there. O'Brien also recommends Garnier Miracle Skin Perfector anti-aging BB Cream
, Smashbox Camera-Ready BB Cream
 and Clinique Age Defense BB Cream
. Many BB creams also have SPF, anti-aging ingredients and antioxidants. It's the perfect, one-stop shop for the busy mom. (Now, if only I could find the perfect one-stop product for potty-training, I'd be set!)
4. Eye highlighter and face brighteners. 
It comes in liquid or powder, and it's basically just a brightener for the parts of the face that can look dark and old (like under the eyes, tops of lids and cheek bones). And it toooootally works. I have this Maybelline New York Dream Lumi Touch Highlighting Concealer
, and I put it on under my eyes, after I apply concealer. I'm cheap, so I'm a drugstore gal, but O'Brien recommends BECCA under-eye brightening corrector (for liquid) and BECCA moonstone powder (for a powder brightener). If you use a powder, you can use it as eye shadow (just under eyebrow, inner corner of eyes and center of lid) and on top of cheekbones for highlighting. I use just a dab on the tops of my cheekbones.
5. Bronzer.
Yuck, I used to think. This will make me look like I'm from the 80's and trying to fake a bad tan. Wrong! Bronzer actually makes your face look more awake by putting natural color back into your face, which gives it a youthful tone and a beach glow. Back in the day, my image consultant recommended Dallas bronzer by Benefit
, but now I just buy this Rimmel version

from the drugstore and it works just as great. I use a kabuki brush
 (recommended by the morning anchor I worked with years ago) to apply bronzer where the sun would touch it: under the cheekbones, around the frame of the face and a light dust down the center of the nose. The key is finding the right color, O'Brien adds. Too brown will make your face look dirty, and too orange will make you look fake. Her favorite bronzers are: Korres Magic Light face powder, Hoola bronzer by Benefit
and MAC Matte bronzing powder
.
6. Blush.
I love blush! It's magic, I tell you! I swear, whenever I get to the blush part of my makeup routine, I automatically look younger and more awake. "When you apply foundation, you're neutralizing the skin, and taking the red out, so if you don't add color back in, you will look very flat and pale. And if you don't apply blush, it can actually make you look like you're wearing more makeup than you are," O'Brien says. She likes NARS blush in orgasm
, Posietint by Benefit
, this Korres Magic Light Contouring Trio
 and BECCA mineral blush in flowerchild. For me, I'm a cheapskate. Which means I drive to the drugstore, buy my favorite $4.95 CoverGirl Cheekers Blush in classic pink
and call it a day.
7. Sheer powder.
Back around 2008, when TV stations went to HD, every news anchor in the history of the world started freaking out that their lines and imperfections would be magnified (which they were). At that time, our image consultant recommended I buy MAKE UP FOR EVER HD Microfinish pressed powder
, and I have never gone back. (O'Brien recommends it too!) This is one of the only items that I don't get the drugstore, and yes even for me, it's worth the 30-minute, 2-kid trip to the mall to grab it at Sephora (or you can make it really easy for yourself and order it on Amazon
).
"HD powder is very finely-milled, and it goes on like butter," O'Brien says. "Stay away from thick powders because they will make you look older and your skin look dry." She also loves Laura Mercier loose-setting translucent powder
.
8. Pink eyeshadow.
I know. It's totally counter-intuitive, right? You'd think pink eyeshadow would make your eyes look more tired, but it totally does the opposite. The TV image consultants swear by it, and once I tried it, I never went back. I like The Balm Shady Lady eyeshadow in racy kacy
, and O'Brien suggests a neutral or dusty rose pink.
Bonus tip: Off-white liner in the waterline.
The waterline is the line that's inside your bottom eyelid. (That was a very non-professional-makeup-artist way to explain it, but hopefully you know what I'm talking about.) O'Brien suggests applying an off-white liner there to offset irritated, sleepy eyes. "I use this a lot on brides who are sleepy for their special day." Make sure it's a liner that's specifically formulated for the waterline, like this one by Nars.
The Results: Super tired mom looks slightly less tired.
So here I am, after applying all 8 tips, one Sunday before church. I only used the makeup listed above (except the off-white liner because I didn't have it), plus mascara and lipgloss. No filters, and of course, I don't look like a supermodel, but I do took look somewhat rested (even though preggo insomnia had me up since 4 that morning). I wanted a picture with better lighting, but we were running late to church, so a car selfie was all I had time for.
And that's keepin' it real, folks.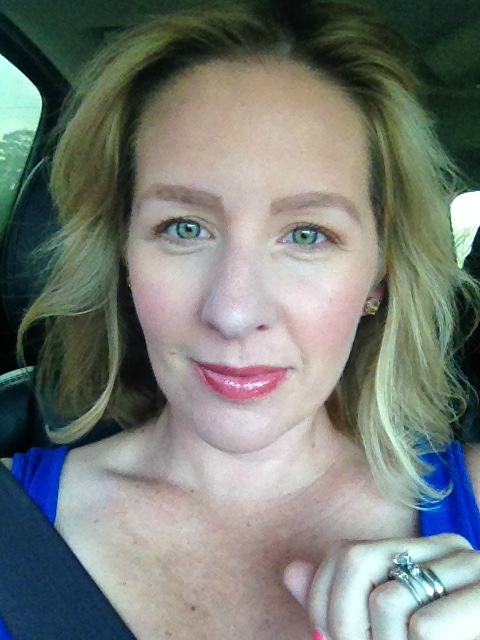 Here's a full list of all the items we mentioned, in case you want to check them out!
1. Olay Total Effects anti-aging eye treatment

2. Korres anti-aging & anti-wrinkle eye cream

3. L'Oreal Magic Skin Beautifer BB Cream

4. Garnier Miracle Skin Perfector anti-aging BB Cream

5. Smashbox Camera-Ready BB Cream

6. Clinique Age Defense BB Cream

7. Maybelline New York Dream Lumi Touch Highlighting Concealer

8. BECCA under-eye brightening corrector
9. BECCA moonstone powder
10.