Part of this post was featured in a segment on Suncoast View, which airs in Sarasota and Tampa, Florida. Scroll to the bottom of this post to watch the video.
You've heard of stupid human tricks.
But let's discuss stupid mom tricks.
You know, all the not-at-all-marketable-in-the-real-world know-how you've picked up as a mom that are totally legit skills. Which you will never use at any other time in your life.
Like convincing toddlers to eat broccoli, go potty in the toilet and wear shoes. (I shared some of them in my stay-at-home mom resume.)
But there's another mom trick I toooootally forgot to mention.
All the things we can do one-handed (since we're always holding a child)!
Ya got me?
You know, typing a work email, while nursing a baby. (Hunt, peck, hunt, peck peck.)
Making a baby bottle (and screwing it closed).
Washing your hands (errr, hand).
Opening a soda can.
Buttoning a button.
Folding laundry. (Well, actually all I've mastered on that front is the one-handed washcloth fold. And we all know I rarely fold laundry anyway.)
Washing dishes.
Putting on makeup (though, not a good look).
Eating a salad (super hard, I will tell you).
Switching a load of laundry.
And now, I have a new one: making baby food.
Yes, I can make baby food with one hand.
I was prepping for a TV segment recently, and came across the coolest baby food maker that is basically 2 steamers and a blender, and it's designed so you can use it one-handed.
(Mind. Blown.)
As you know, I am super cheap, which is the main reason I love making my own baby food. And usually, I have to bust out a huge pot for the steaming, and then my industrial-sized food processor for blending.
But with the Beaba Babycook Pro 2x, I legit just made homemade pea puree baby food on one side, while I blended a green smoothie for myself on the other. With one hand.
Yes, I fed myself while making food for my child. BAM.
The one-handedness is all thanks to the fuchsia-colored buttons on the top of the machine, which open each side with one finger, and one click.
Thank you, Beaba, for completing my life. (Oh, and it's totally not out of the question to suggest that after baby, that sweet blender will be churnin' up a piña colada or some other delicious adult beverage while I make baby food on the other side. Just sayin'.)
So come to me, whiny toddler, needy newborn, tantruming preschooler.
I'm here. I can offer you one hand.
But with the other hand, I will make you dinner.
And perhaps, a stiff drink for myself.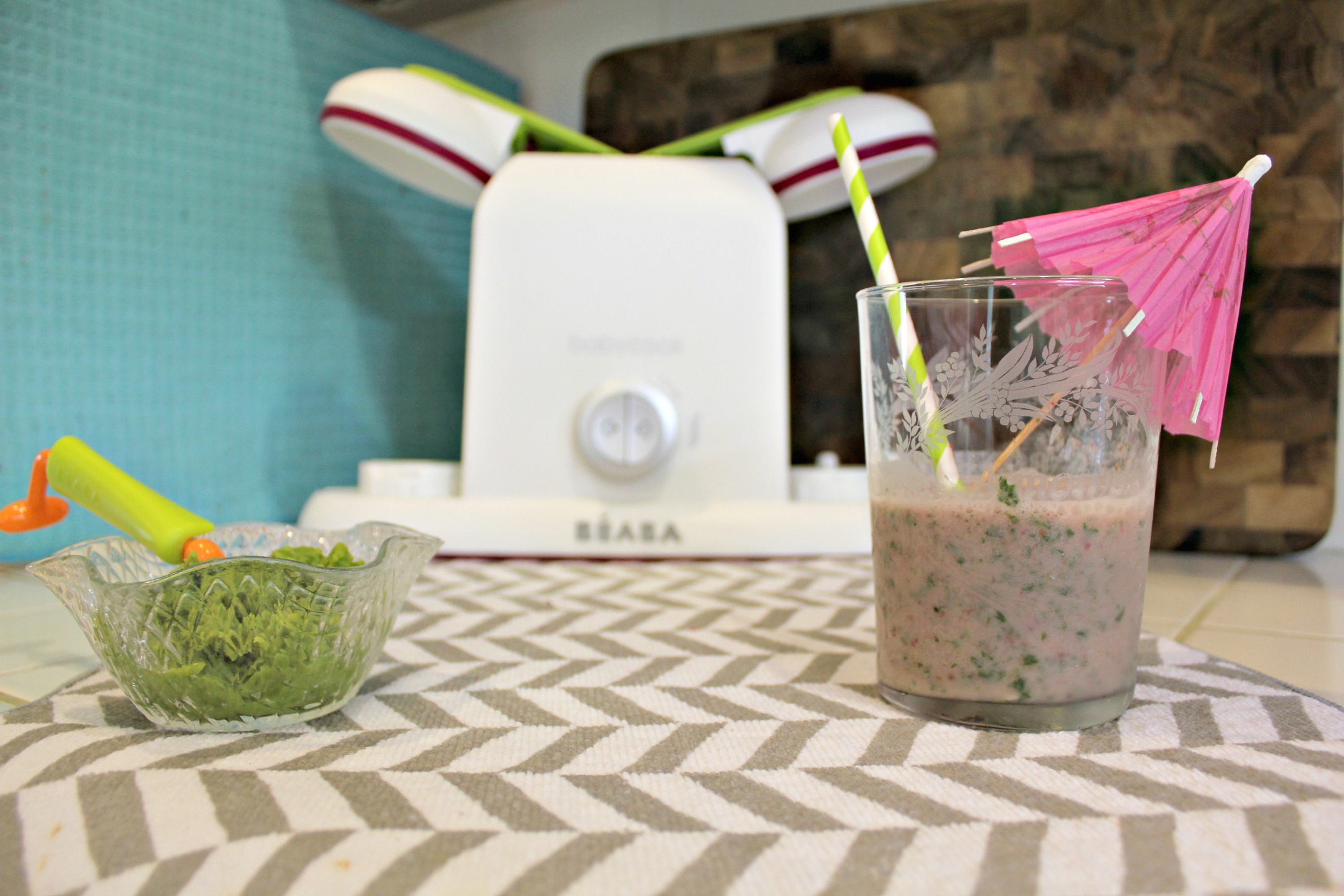 Thanks to Beaba for sponsoring this post!