This post was also featured on Suncoast View, which airs weekdays at 4pm in Tampa and Sarasota, Florida. Scroll to the bottom of the post to watch the TV segment.
Forget the baby registry! These are the baby gift ideas that every mom-to-be really wants. Whether or not she has the guts to ask for them is another story.
1. Someone to clean her house
Take it from me. It's really hard to get into guerrilla nesting mode when you're as big as a cow. But for some reason, when you're huge, pregnant and about to give birth, there is a primal urge to deep-clean your entire house. However, scrubbing floors and reorganizing under the kids' beds can be problematic when you can't even see your feet. So, tell your favorite mom-to-be, "I'm coming over to clean your house," and you might just make her year. It's definitely the best baby gift idea ever.
2. Diapers
Now that we're about to have our third boy, I tell people that, literally, all we need are diapers. I have all the baby crap I could ever want. And enough outfits for the kid to wear a new one everyday for the first 6 months of life. Seriously, just get me diapers. It's the most practical gift ever, and you can pretty much guarantee they'll be used.
3. A diaper bag that doesn't look like a diaper bag
I mean, for real. Just like we all want a minivan that doesn't look like a minivan from the outside, we all want a diaper bag that is functional and doesn't look like a herd of ladybugs or Winnie the Pooh threw up all over it. My Elizabeth bag from Lily Jade is so gorgeous that… well, let's be honest… It's so gorgeous that I used it purely as a date night bag for the first 3 months. (I still need to work up the nerve to use it for my actual diaper bag.) But inside, it's totally kid-friendly, with a bright red detachable bag that's washable and even has a changing pad.
4. A stroller that's virtually indestructible
Whenever friends ask me for stroller recommendations, I always tell them: Get a BOB. I have 3 BOBs, and they are all I buy. My BOB Revolution Flex Duallie
 is easy-to-maneuver (even with the 2 toddlers strapped in), ideal for jogging (and/or the mall) and crazy durable. Which comes in handy when you have toddlers who insist on bringing their play power tools onboard. And then growl at the camera for no apparent reason. Ya know.
Another huge draw for me is BOB's excellent warranty program. (In fact, I've called the company twice and they've sent out free replacement tires at no cost.) A BOB is definitely an investment up-front, but when you're done using it, the resale return is also excellent.
5. Freezer meals for when the baby comes
This is a slam dunk every time. Make some freezer meals and drop them at her doorstep. This is especially helpful if the mom already has other kids (like, non-newborns) to feed. 'Cause you can't exactly get away with a dinner of Goldfish 3 days postpartum with the older ones. (Well, you probably could, but you get my point.) Some of my friends have set up meal trains through MealTrain.com, and it's so easy because you can see which nights the family needs meals and what their food preferences are. Best gift ever!
6. Someone to take good newborn photos
Some moms-to-be want a photographer in the delivery room when the baby's born. Others, like me, luck out and their mom randomly takes some amazing after-birth photos in the hospital, using a few simple DIY tips.
Still others love a few good naked newborn pics taken at home with amazing natural lighting. If you have a knack for photography, tell the mama-to-be you want to take pictures of her new little bundle. You can't go wrong. Especially with those perfect little pucker lips. I mean, really, is that not perfection? (Editorial note: It's possible a doting mama is writing this.)
7. Something that saves money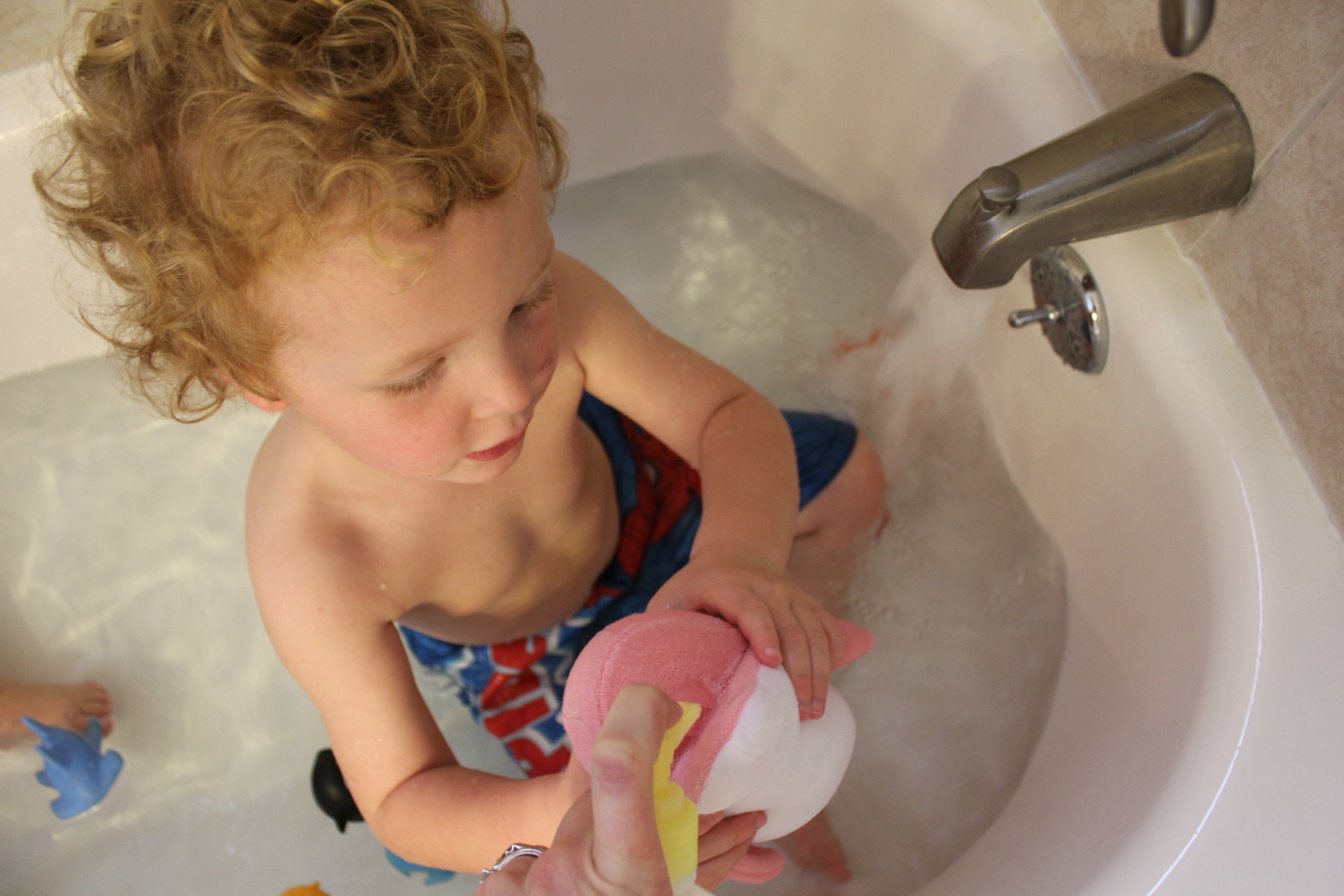 Since you'll go broke buying diapers, it's nice to have at least one thing that will save you money. I love SoapSox kid sponges because they create a thick lather of kid shampoo, rather than letting it drip off into the bath water like those baby washcloths. All you do is squirt some soap in the animal's mouth, squeeze it and let the kids have fun!
I swear, the bottle of shampoo lasts 4 times longer when I'm using these guys. And they're sooooo darn cute too! They were also recently featured on the ABC show Shark Tank.
8. A nice mani-pedi
Because your hands and feet never look fat. (Actually, that's not really true, but don't tell my swollen 7-month-preggo feet.) Regardless, having a fresh set of glossy nails is one of my favorite ways to feel put together, and in a weird way, having the nails done makes me feel prettier and more in-control when I go into labor. (You know, so that when I'm writhing around and in the worst pain of my life, I know that my lady claws are sportin' some fresh colors, and lookin' fab. Ain't no thang.)
8. No-nonsense tools for baby snot and gas
One of the hardest parts about having a newborn is the constant crying from gasiness in their stomach, or nasal congestion that you can't fix. If you have been living under a rock and haven't heard of the NoseFrida snotsucker, stop everything you're doing and go buy one immediately. Unlike the harsh, ineffective plastic nasal aspirators that the hospital hands out, the NoseFrida is a totally natural, safe, gentle tool that you place onto the baby's nose (not inside, just barely touching the nostril), and then you suck on the other side of the tube to get the mucus out. Eeew, does that mean the snot is going to go into my mouth? Heck no, girl! It comes with 4 filters so that gunk never gets near your mouth. (But honestly, you're a mom. Please. You deal with way grosser things anyway.)
When my toddler had a stuffy nose recently, I tried the NoseFrida on him for the first time, totally expecting a fight. (Yeah, mid-wagon ride. 'Cause that's how I roll.)
The weird thing was, he didn't even seem to notice when I put the NoseFrida up to his nose and quickly sucked the yuck out. Another thing I love about it: you can see what you're getting out. (Again, don't pretend you're grossed out. You've seen way worse.)
The company also just released a brand-new product, called The Windi, which is a natural tool that you insert into the baby's butt to manually relieve their gas within a few seconds. (No more giving your baby gas drops and praying it works!)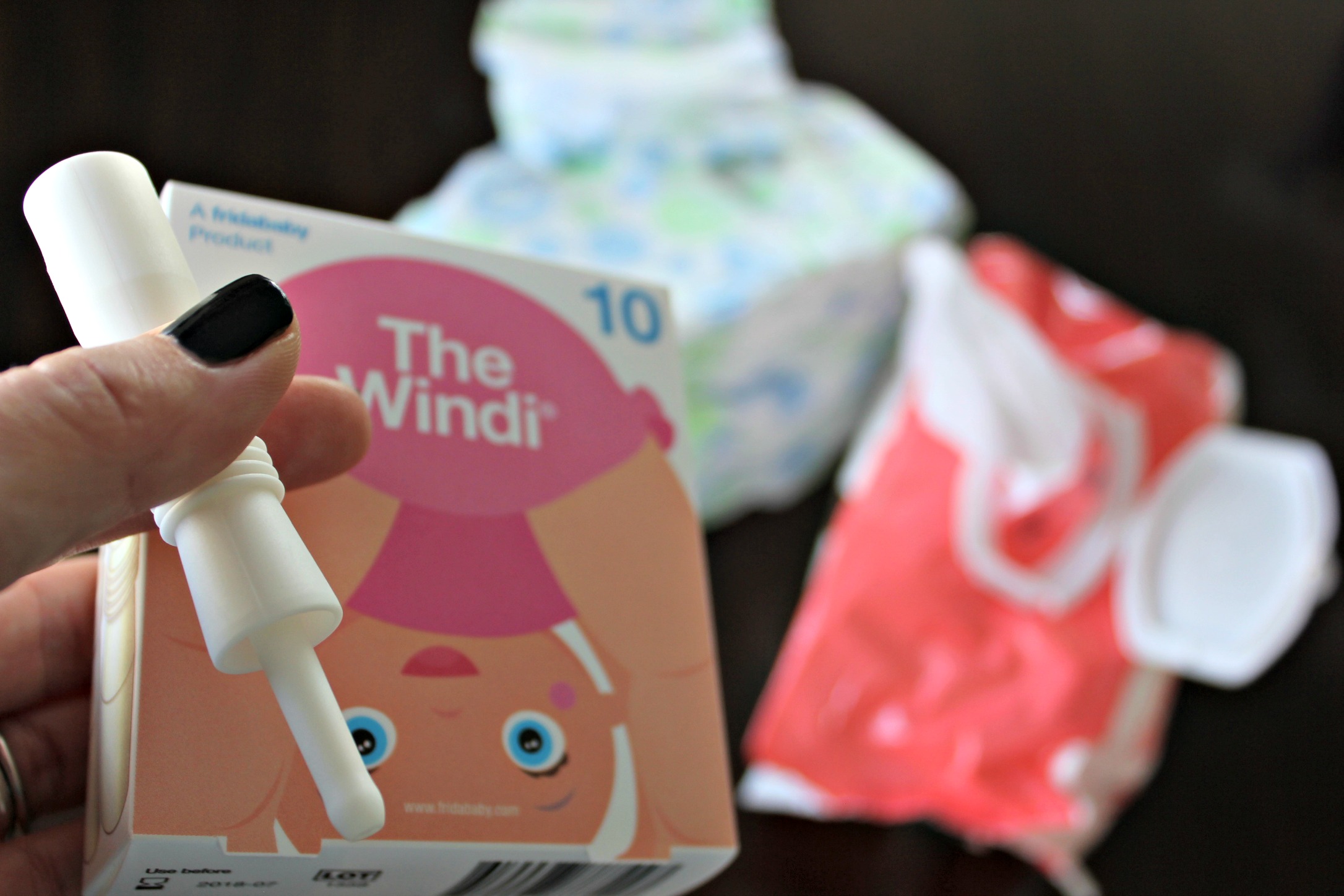 10. Someone to watch the kids when the baby comes

Few things cause more anxiety for the mom-to-be than figuring out where to stash her other children when she goes into labor, especially if there's no family in town. Offer to watch her other munchkins, and you'll take a load of stress off her mind. (So then, she can "just" deal with the stress of pushing a 9-pound human out of her body.)
11. Something cozy and handmade
Etsy has soooo many handmade gifts to choose from, but one of my favorites is this hand-crocheted newborn bonnet and travel blanket from Fiber & Twine. (Navy and white chevron and an anchor. Seriously, do you not die?!?) They're all made by a mama in Georgia, who does most of her handiwork while her 2-year-old daughter naps. There's nothing better than hearing "I had this handmade just for you" when you get a gift to make you feel special.
12. Something with the baby's name or initials
While we're talking about Etsy, there are some amazing jewelry designers who can make inexpensive, personalized charms and pendants that are to die for. I love my monogram charm necklace with my boys' initials (it's actually a $12 acrylic key chain that I added to a long chain). It's hard to find a mom who doesn't want to wear her child's name or initials, and Etsy has tons of different styles and designers, so there really is something for every style.
13. Less angst about feedings
Whether to bottle or breastfeed is a highly-personal choice that can be marked by an obscene amount of stress during a time when you're already dealing with raging hormones and an ungodly lack of sleep. For the bottle-feeding mom, take the stress out of it and get her a Formula Pro
, which is basically a Keurig for baby formula
. Yeah. You put the powder in, push a button, and it mixes it with water and heats to the right temperature.
So now, you have time to pour yourself a cup of coffee. And maybe even drink it while it's hot. (Bahahaaaaa! Who are we kidding? You won't be getting a hot cup of coffee for at least 3 years.)
14. Help with recovery "down there"
Why the heck does no one tell you that your cha cha will hurt for like a month after birth? After having my first son, I seriously felt like the recovery afterwards was worse pain than my natural childbirth. That being said, Fridababy has a brand-new product (like, it's not even available in stores until later this month), called the Fridet. It's basically a peri bottle that's your best friend in the days after birth. Oh, and later, it can double as buttwasher for your potty-training toddler's enflamed butthole. ('Cause that's something else no one tells you about.)
15. Sleep
Sleep, sleep, oh for the love of God, a break from the insomnia in those final preggo days. And then, after that, a good plan for baby sleeping. And maybe next, world peace?
Okay. Well, at least I got you this far.
Good luck, Mama.
I only promote brands I personally use, so many thanks to Lily Jade, BOB Gear, Fridababy, Baby Brezza, Fiber & Twine and SoapSox for sponsoring this post! This post may also contain affiliate links, which means, at no additional cost to you, I make a few pennies if you make a purchase. Every penny keeps my site a runnin', so thank you!
What are your favorite mom-to-be gifts? Share them in the comments section below.