This post was originally shared on She Just Glows in May of 2014. A portion of this post was also featured on Bon Bon Break, a lifestyle website for moms.
The days of the 30-minute hot shower and five outfit try-ons before you leave the house are over. It's a new era. The era of putting both the kids in high chairs in front of the TV so you can get a four-minute shower and picking the shirt that's least likely to show spit-up. (So what if it's coming from the dirty clothes hamper?)
It's called the era of parenting. And it's truly a beautiful thing. But as a mom, I don't always feel beautiful. I'm more like a beautiful mess. Or a hot crazy mess.
But, I've come up with a few quick tricks to help me look more put together everyday, when I go out for the day, even if I have just five minutes.
Looking perfect isn't the point. Feeling put-together and confident IS!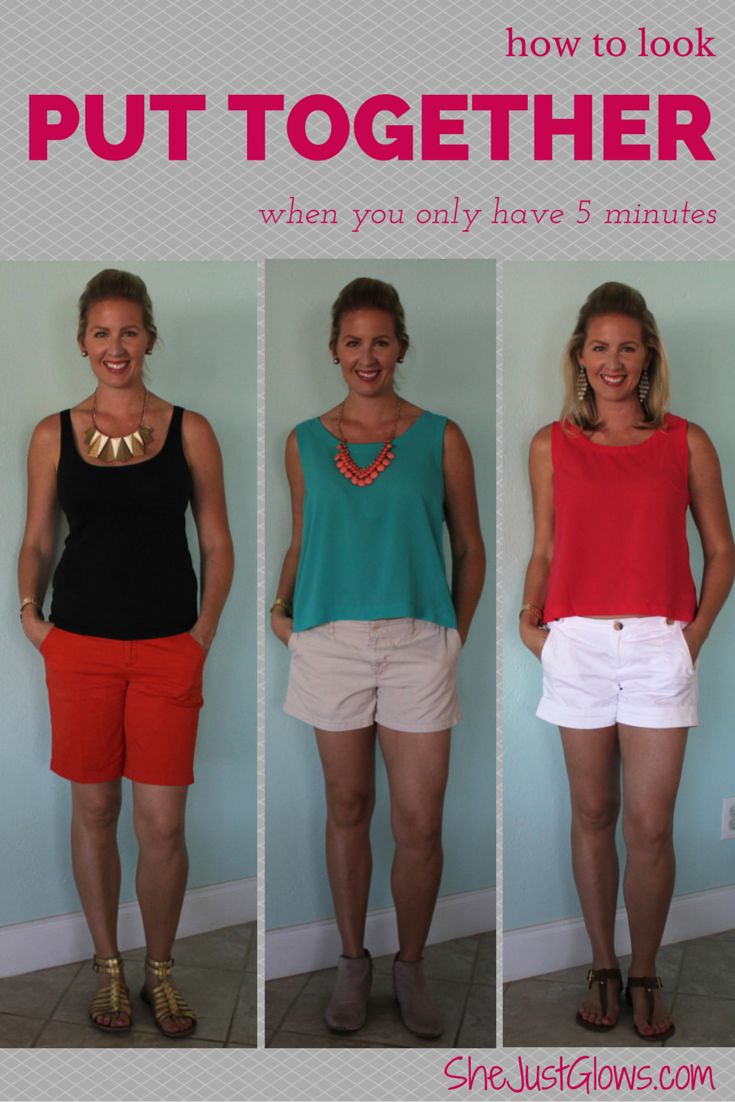 1. Wear basic clothes and focus on eye-catching accessories.
I make it very easy for myself. I have four pairs of shorts (white, bright orange, beige and neon yellow), a pair of jeans and a bunch of loose-fitting cotton shirts and ribbed tanks. They are all machine-washable and easy to care for.
Throw on the outfit and then focus on the accessories:
A bag, an oversized necklace, big earrings, a fun hat, some fun oversized sunglasses, a bandana in your hair.
A bright lip. (Do not undervalue the bright lip!) I literally have like 12 of these Maybelline lipsticks. I love them because they come in bright colors and they stay on all day.
I started doing this after the birth of my second son, when I was at my all-time highest weight (read this post to find out how I lost the weight) and needed a way to distract the eye. My solution: bring the eye up to the face, with the help of big earrings or a big necklace! Yes, the baby yanks on the earrings from time to time, and he likes to think my necklaces are his own personal teethers, but the bottom line is: it works for me! It makes me feel confident and put together. The eye is going to the accessories and not the parts of my body that I don't want in the spotlight that day.
2. Let your shoes make a statement.
This is similar to the accessories and plain clothes strategy mentioned above. I have five pairs of sandals and a few pairs of flats that I love. They are easy, they make me feel fashion-forward.
And let me tell you: I love a bright shoe!
I just bought some hot pink pointy flats on Amazon that are so comfortable. I have yellow shoes. I have bright green. I have red Converse.
Girl, invest in a fun shoe.
3. Keep the nails in check.
I used to go to the salon to get a manicure and pedicure every week (pre-kids, obvi). Now, it's once every three months, at best. But every few nights, as part of my pre-bed routine, I do take a look at my nails and, if needed, put on a quick couple coats of polish. I realize this isn't for everyone, but for me, when my nails look good, I feel good. I think it's because, growing up, my mother always had beautiful nails that she kept polished and painted to perfection. The point is: find what you need each day to make you feel "together." It could be shining your kitchen sink, taking five minutes to stretch when you wake up or blowdrying your hair. Whatever it is, make it a priority. You are sooo worth that extra five minutes!
Bonus Hack: Keep comfy dresses on-hand.
Think Old Navy, Gap, Target. Cotton dresses are awesome because they are easy to wear and easy to wash. You don't even have to pick a shirt and shorts. It's just one, simple, ready-to-wear piece. Sometimes I want outfits that I don't need to think about. Because my brain is too full from planning nursing stops and figuring out how I'm going to convince the toddler to wear pants today. My slouchy black dress from Old Navy is perfect for that. If I want to cinch in the waist, I use this white braided belt and add some silver jewelry. Done!
4. Use a cardigan, casual blazer or light sweater to unify the look.
I have a few great, short-sleeved blazers that are perfect for this. They're from Amazon and Shein.
Another look I'm loving lately: the oversized long-sleeved linen button-down over leggings and a tight top, or a 2-piece workout set.
Sometimes things don't look put together until you add this step. Before the "top coat," it looks unflattering and a little sloppy. Afterwards, all that is fixed!
5. Invest in good workout clothes.
I know, I know. I'm including "wear workout clothes" in a post about looking put together. But sometimes, we just can't get it all together. And on those days, you just have to OWN IT. You were up all night with a sick baby, so you'll be wearing yoga pants all day. ('Cause it's better than wearing pajamas to the pediatrician's office… which I have toootally done.) Or, you might be planning a late-day workout and don't want to get showered early in the day. Make the choice to wear workout clothes you like and that you feel good in!
I used to wear old sorority shirts from college and biker shorts to the gym. I felt gross and didn't want anyone to look at me because the clothes just didn't fit right, but I never let myself buy new clothes because I felt it was indulgent to care about how I looked at the gym. Finally, my husband had had enough and bought me some new (expensive, yikes!) workout clothes for my birthday. It took me three months to get the guts to wear these hot shorts, but when I did, it felt great! In fact, it felt so great that I posted this picture on Instagram. Not because I was at my goal weight. But because I was feeling confident and enjoying the journey. OWN IT.
I want to wear clothes that fit better because they feel better, I look better and I'm more confident. And, believe it or not, I've found that I push harder during workouts when I'm wearing clothes I feel good in.
The days of feeling like I'm not important enough to wear clothes that make me feel good… are over. I am worth the extra $20 to buy workout clothes that fit me. I am worth spending time 50 minutes a day on my fitness because it makes me happier and more focused all day. I am worth that $4 necklace at H&M because it will translate an unflattering outfit into one that makes me feel great about where I'm at in my journey.
And I am certainly worth the five extra minutes to craft an outfit that will help me command my day.
Make your life and your expectations work for you.
As moms, we need to stop being so hard on ourselves! Forget those standards of perfection that break you down and make you feel like a failure. You are so much better than that!
View this post on Instagram
This post contains Amazon affiliate links, which means that, when you buy through the links in this post, I get a few pennies for every dollar you spend. It does not cost you any more. The Amazon prices are the same whether you find these links yourself or click through the links in this post. Thank you so much for being part of this community.