I'm so done with the 2 dinners a night routine (one healthy for me, one for the others), so I went in search of some new meal ideas to make my life easier and get out of my dinner rut.
Scroll to the bottom of this post to watch a Facebook Live where I demo my favorite recipe from the list!
About 4 weeks ago, I hired a personal trainer, upped my fitness game and tried to get back to healthy eating.
After having 4 babies in 7 years, I've still got about 12 pounds hanging on, and I'm ready to get rid of this extra weight, have more energy and feel better.
Many of you have been following along (thank you!), and when I asked in the closed Facebook group what you want me to write about, your most popular answers were healthy dinner ideas and meal prep. So here you go!
My meal prep & planning
First of all, I plan our meals on Sunday. What this means is I sit down at my computer, look at our schedule for the week and pick dinners for each night. If I will be home during the afternoon, it can be a quick meal I make right before we eat. But if we will be busy or out of the house that afternoon, I try to pick a slow cooker meal or plan to reheat leftovers. This way, dinner is always accounted for, regardless of our schedule.
Once I pick our dinners, I make my grocery list. I keep my life super simple and order all of my groceries to be delivered. This has been a game changer for me. I pay once a year for Walmart delivery (I think it was like $120) and I get free delivery for the entire year. I order groceries at least twice a week so this saves me hundreds of hours. If you don't know if Walmart delivers to your house, download the Walmart grocery app (it's orange) and plug in your address. Usually, I have my groceries delivered on Monday morning.
Once the groceries are delivered, I immediately make a huge salad and put it in a large container in the fridge. My favorite things to put in salad are romaine lettuce, grape tomatoes, chickpeas, red bell pepper, broccoli, shredded carrots and organic cucumber. (I don't buy many organic items but I notice a huge difference in the taste of organic cucumber!)
Now my lunches are set and I just have to prepare dinners each night.
I shared on Instagram recently that I have been finding myself in a dinner rut, so I went to a few clean-eating websites to find healthy, fast slow cooker meals that everyone will love. I find that I have the most time to prepare dinner in the morning, so I really need lots of go-to slow cooker recipes. The tough part about my house is my husband doesn't like soup which is a good 80 percent of all slow cooker recipes. Still, I was able to find some good ones that I've started adding to the rotation.
Healthy & fast dinner recipes
Moroccan Chicken
My favorite new dinner so far has been what I call Moroccan Chicken. It's a slow cooker recipe I found on Skinny Taste, and it's simple and flavorful. I adapted it a little bit because I needed cooked, shredded chicken for 2 different nights, so on this morning, I put 4 pounds of chicken in the slow cooker with 1 cup of chicken broth. By 1pm, it was cooked and shredded. I put half of the cooked chicken in a container for my next night's dinner and left the other half in the slow cooker and turned it to "keep warm" since it was done cooking.
Next, I made the from-scratch sauce recipe she mentions in the link, which actually wasn't that hard. I just put everything in my Vitamix
, churned it for a few seconds and it was done. (I tried to find the ready-made sauce she mentions in the post, but my Walmart app didn't have it and I'm at the point now that if Walmart doesn't have it, I'm not bothering with it. I don't have time to go to multiple stores for groceries.) I poured it over the chicken in the slow cooker and let it do its magic.
Next I cut up 2 organic cucumbers, and drained 2 cans of chickpeas. I got the ready-made Tzatziki I'd bought out of the fridge. That took about 2 minutes. Then, I made 4 cups of basmati rice. Since I am not eating rice, I grabbed a microwaveable pouch of quinoa and brown rice from my pantry, popped it in the microwave for 90 seconds and boom dinner is done.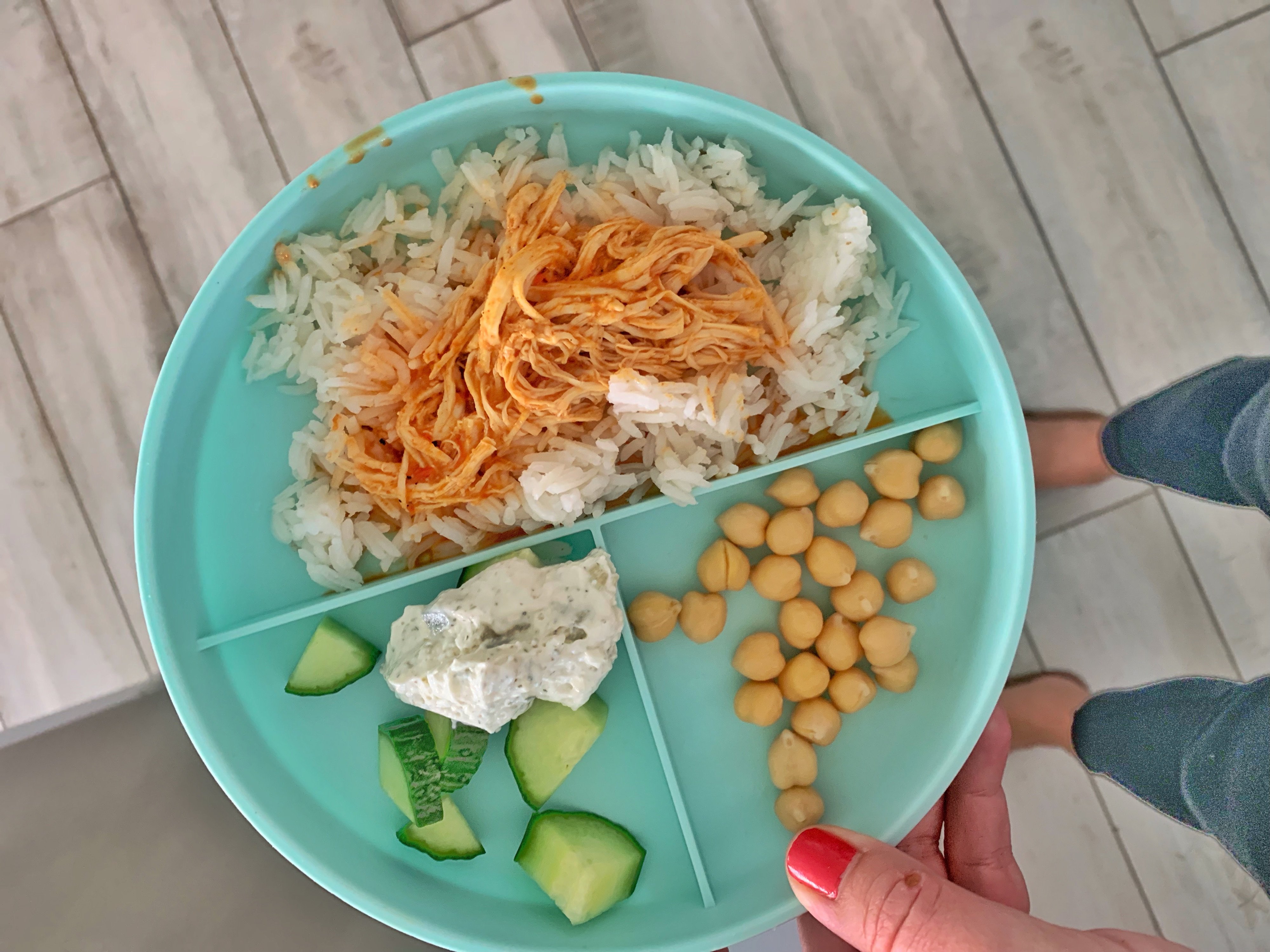 Everyone loved it. The chicken was super flavorful but not spicy. My husband raved about it, and I think we just all loved that it was new flavors and felt very fresh and fun.
On that note, obviously all 4 of my kids don't like every single thing in the meals I'm mentioning here. My rule is, if you don't like something, just take it out. I don't want to hear about it. And also, try it once and if you don't like it you don't have to eat it. However, dinner is dinner and this is all you are eating tonight so you will go to bed hungry if you don't eat anything on your dinner plate. The good news is you will be nice and hungry for breakfast. *wink*
Egg Rowl in a Bowl
Another favorite was a recipe I found on Clean Food Crush and it was so darn delicious I'm already excited to make it again. I loved that I already had most of the ingredients too, and it didn't require a bunch of new condiments which can get expensive.
Basically, this is a one-pot meal and all you do is brown ground beef (ground turkey would totally work too), make a sauce, cut up veggies and put it all together. It came together in literally 15 minutes.
While the meat was browning, I sliced up the cabbage, carrots and green onion. The carrots didn't require much cutting because I had some extra shredded carrots from my salad prep that I threw in, along with some sliced baby carrots.
Once the meat was browned, I threw in all the veggies. While that came together, I made the simple sauce in her recipe. I did have some coconut aminos
on hand, but it was just a few tablespoons, so I grabbed soy sauce and added that in too. Do what you can and let it be enough. Sprinkle with sesame seeds (I didn't toast them I'm too lazy) and call it dinner!
I didn't end up making rice or quinoa to go with this but you totally could. Everyone loved it.
Slow Cooker Burrito Bowls
Another healthy-ish slow cooker favorite has been Crockpot Burrito Bowls from Clean Food Crush. You basically put chicken, onions, broth and tomatoes in the slow cooker, let it cook for about 5 hours, and then add quinoa, black beans and corn until it's hot.
It was so simple, satisfying and leftovers were even more delicious the next day.
Mediterranean Green Power Bowls
It's not a slow cooker meal, but Mediterranean Green Power Bowls were also a fun one that proved to be a refreshing departure from our usual boring dinner recipes.
We had some extra grilled chicken from over the weekend, so all I did was mix that with romaine lettuce, brown rice, grape tomatoes, cucumber, olives, sliced red onion, artichoke hearts and feta cheese. I know feta isn't for everyone but it added a nice kick. The recipes calls for a homemade dressing but I didn't feel like it so I just added olive oil and balsamic vinegar.
Spaghetti Squash Skillet
What I loved about this one from Clean Food Crush was that once you cook the squash, it's also a one-pot dinner. She bakes her squash in the oven, but that takes way too long for me, so I always half mine, dig out the seeds, put the 2 halves on a large plate with a tablespoon each of water in the center and throw it in the microwave for 10 to 15 minutes. It's so much easier, and faster.
I adapted a few other parts of the recipe to make it easier for me too. First, I browned ground beef, then added the mushrooms, onion and green bell pepper. After that, rather than make my own sauce, I just threw in a couple jars of store-bought marinara sauce. (Praise you if you make your own but I just don't want to spend the time anymore.)
I just remembered that the night I made this, I actually didn't even add spaghetti squash to it. I had some leftover roasted broccoli that I heated up for everyone, and poured the red meat sauce on top. Surprisingly, we all loved the flavor that the green bell peppers added.
Slow Cooker Cauliflower Pizza Casserole
You guys. This is so good. I mean, just add cheese and everything is delicious, right?
I am trying not to eat a ton of cheese right now, but I made an exception for this meal because it is clean and still a very wholesome meal. And let's be honest, one dinner for the whole family trumps me eating a little more cheese than usual.
Since it's baked in a slow cooker, my 4-year-old was able to help me put it together which was also a special time for both of us.
Basically, all you do is put a bunch of cauliflower in the slow cooker (I'd bought 2 bags of cut cauliflower because I tend to ignore whole cauliflowers in the my fridge because they scare me), pour some store-bought marinara or pizza sauce over it, top with cheese and pepperoni and bake.
So easy and fun and the kids can help. Wins all around. It basically comes out like a cheesy soup with cauliflower and pepperoni in it, and we were all here for it. When I served my bowl, I took mostly cauliflower and pepperoni and minimal cheese. It worked.
Slow Cooker Creamy Chicken + Rice
Usually the word "creamy" in this recipe would make me think it's not healthy, but the only thing that makes it creamy is plain Greek yogurt. (Besides that, I forgot to make the sauce and it was still amazing!)
All you do here is put chicken, carrots, corn, peas, onion, rice and chicken broth in the slow cooker and come back a few hours later. Like I said, I even forgot to make the sauce, which is Greek yogurt and Dijon mustard but the whole meal was a total a crowd-pleaser. This would be a good one to make for a large group because it's so hearty and it makes a huge amount. We literally had leftovers for like 5 days. I was surprised how much my kids and husband loved it because it's such simple ingredients.
Even thought there is rice in it, it still felt healthy and not too heavy. I used brown rice and made sure to eat it early in the day (I usually eat dinner around 3pm) so that I had time to use that energy before bed.
Roasted Veggies + Protein
This is one of my old standbys so I have to list it here. Here's how it works. Put foil on baking sheet. Place diced veggies (see examples here) on sheet, drizzle with olive oil, salt and pepper. Toss with fingers, and bake at 375 for as long as it takes to be delicious.
I do this at least once a week, and it's a great way to make dinner vegetable-centric. Our family is so big I usually use 2 baking sheets, and add sausages or chicken breast to one of them. After about 40 minutes, dinner is done and it didn't take much work at all. Not to mention you only have 1 baking sheet to wash. You're welcome.
Tacos
We have a running joke in our house that Mom never gets it together for Taco Tuesday so taco night is usually a random Taco Thursday or Taco Monday.
This is not a new one for me but I want to add it because it's always a crowd-pleaser. Brown meat with spices, cut up tomatoes, cilantro, lettuce, red onion, avocado and lime. Heat up a frozen bag of corn. Get sour cream, cheese and hot sauce out of the fridge. Done.
For mine, I heap taco meat over romaine and top with corn, red onion, tomatoes, cilantro, avocado and lime.
For the kiddos, I buy an 89-cent box of hard-shelled tacos at Walmart and they think it is literally the best thing ever. They usually take theirs with meat, cheese and sour cream and I'm totally good with that.
Everyone loves tacos, and there are rarely any leftovers on Taco Whatever Night.
Meatloaf
I feel like meatloaf is often overlooked and yet it's an excellent, healthy crowd-pleasing meal. It's not pretty but it is super satisfying for both kids and adults.
All you need to do is mix ground beef with spices, oatmeal and egg, bake it, throw some ketchup on the table and you have dinner. I usually bake green beans in the oven while the meatloaf bakes, or grab a frozen bag of Brussel sprouts, peas or corn for a veggie. Done!
What I Ate This Week
So I realize this post is going super long, but this post title makes a promise and I intend to deliver. (Plus if you're super nosy like me, you really want to know what I ate. I'm weird like that, what can I say?) So here goes. You'll notice I'm super disciplined during the week, and things get a little colorful on the weekends. *wink* If you have any questions, feel free to hit me up on the Facebook page, or on Instagram! Also I don't know anything about nutrition or health or anything like that. I'm simply sharing what's been working for me, and that's all.
Monday
7am handful of cashews + 1 Starbucks coffee + almond milk creamer
9am 1/3 banana + 1 Starbucks coffee + almond milk creamer
10:30am personal training
1pm salad with romaine + tomatoes + green beans + broccoli + red bell
pepper + carrots + Tessemae's dressing
+ 1 cup smoked pulled pork
4:30pm 2 cups Slow Cooker Burrito Bowl
Tuesday
7am 1 Starbucks coffee + almond milk creamer
8:30am green smoothie (vanilla protein powder
+ 1 cup berries + 2 cups
spinach + unsweetened vanilla almond milk)
11am 2 cups Slow Cooker Burrito Bowl
12:30pm Hot Lunch yoga
2:30pm salad with romaine + tomatoes + green beans + broccoli + red
bell pepper + carrots + Tessemae's dressing
+ 1 pork sausage +
Kombucha

5pm can't remember but it was healthy LOL
Wednesday
6am 1 Starbucks coffee + almond milk creamer + collagen

9am 2 slices bacon
12:30pm 40-minute run/walk
2pm salad with romaine + tomatoes + green beans + broccoli + carrots +
Green Goddess dressing + 4 slices deli turkey
5:30pm 4 cups Janie's Roasted Veggies + Protein (1 cup roasted chicken + 1.5 cups broccoli + 1.5 cups russet potatoes0
Thursday
7am 5 turkey slices
8am Starbucks coffee + 1/2 & 1/2 + 2 Splendas
10:30am salad with romaine + celery + sugar snap peas + grape tomatoes + shredded carrots + Tessemae's dressing
+ 2 hard-boiled eggs + 1 pork sausage + Kombucha

5pm Hot Flow yoga
8pm 1/4 roasted potato chunks + 1 cup zucchini soup + 1 cup Spaghetti Squas