Let's be honest.
With 3 kids 4 years and under, our furniture gets thrashed.
Like, ANNIHILATED.
Like, I've written whole posts about the horrific state of affairs that is all of our kid-thrashed furniture.
And our couch was no exception.
We bought it before kids, so of course at that time, I could care less about whether it was washable or whether human urine would leave a stench.
It's now 9 years old.
And oh-so-gross.
But I've refused — flat out refused — to buy a new couch, simply because I didn't want to have to keep it clean, or worry about pee or barf or kid food or anything else.
I didn't want to have to care.
Because I clearly don't now.
One of the cushions is torn, so you can't even sit on it. The other cushion's zipper has completely separated from the cover, so it doesn't even stay on. The cushions themselves reek of kid urine (sorry for all the pee references but that's totally my reality right now… any #boymoms or potty-training mamas feelin' me?), and the armrests are a shade of gray that's a far cry from the white-and-blue-stripe that the couch is meant to be.
It's Dis.Gus.Ting.
And last week, I decided I simply couldn't stand it anymore.
So, I decided I wanted to find a 3 Year Couch. You know, a cheap couch that we could buy and not care about and let the kids thrash before we buy a nice couch that we actually like. (But not until the kids are all done potty-training and getting stomach bugs, and generally, done being the animals that they are now.)
And so, I began my quest for kid-proof couch.
I wanted one that is washable. And durable. And could be beaten to crap. Oh, and that is also cheap.
I asked my friends, and many suggested going with leather. Even though it's not cheap, it is durable and many said theirs had stood up surprisingly well to years of kid abuse.
But, we already have a leather sofa, and I really wanted to get a cozy-ish couch for our TV area.
And so, I looked around online and eventually found the most perfectly-cheap-yet-durable-and-still-totally-washable couch that I'm absolutely in love with. And so, I wanted to share, in case any of you care about this information.
Drumroll…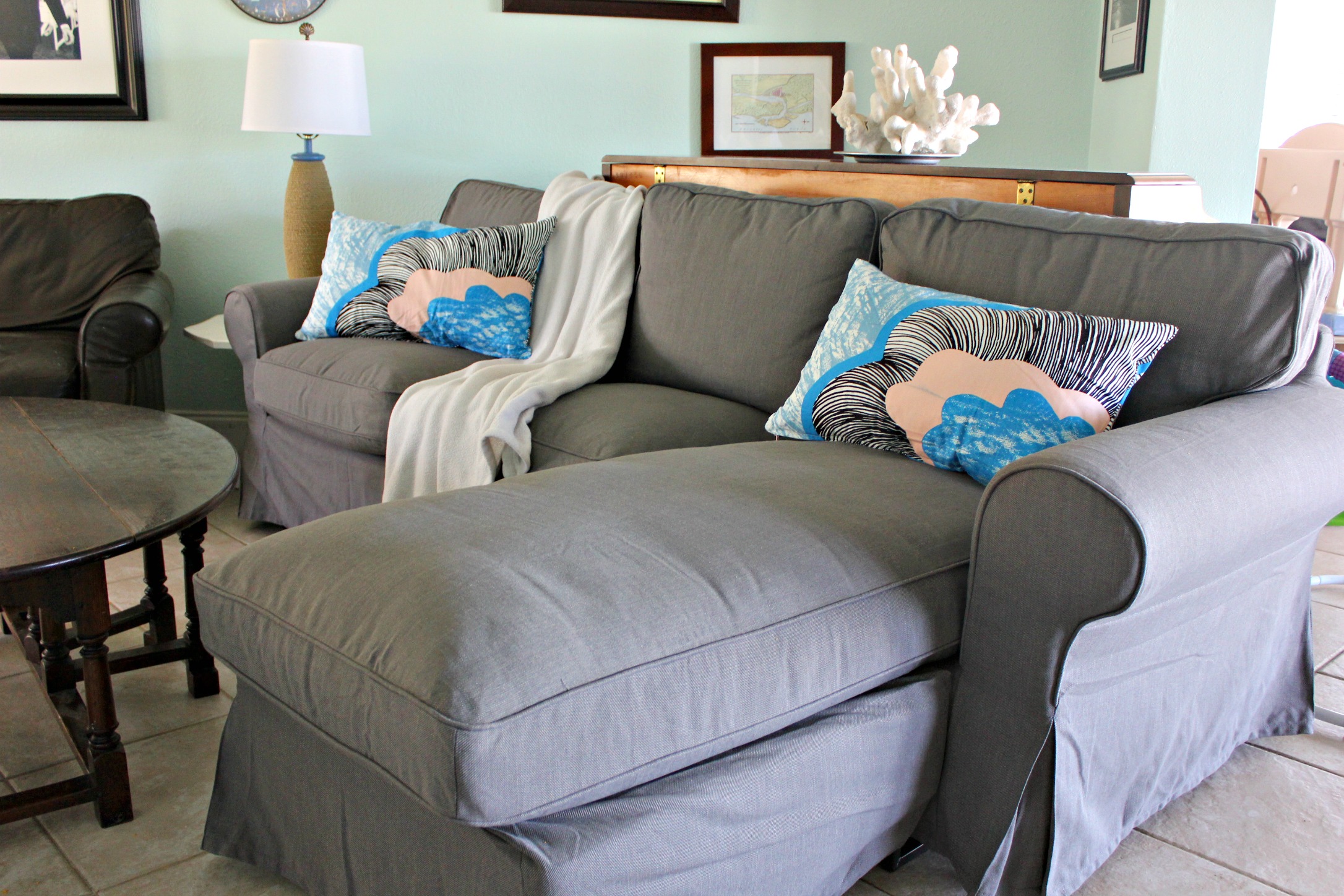 This is the Ektorp couch from Ikea.
(And NO, this is not a sponsored post.)
Here's what I love about it.
First, the entire thing is washable. Not just the cushion covers, like the whole thing. So you can actually remove the cushions, and then take off the entire, large slipcover that goes over the entire couch.
What does this mean? No more nasty armrests or dirtiness at the bottom.
I freaking love it! It's a little shorter than our last couch, but there's still plenty of room, and more people can sit on it. The cushions are extra squishy and it just feels so soft and cozy.
We bought the couch with an added chaise, and the grand total was only $699. (It would have been $599 if we went with a cheaper fabric.) I think our last, crappy couch was close to $2,000. (Hello. Mind blown.)
We chose a more durable fabric, and even though I wanted white (I know, pick yourself up off the floor… it really is hilarious that I even considered it), we decided dark gray was the most practical for us right now (because, barf-pee-poop-spaghetti-ketchup). The fabric is thick, and almost feels like a soft canvas material. Which I love because I know it'll stand up to the million washes I will be putting it through. (I'm even considering getting pet pee pads to put under the cushion cover, and on top of the actual cushion to protect the cushion from pee abuse. That is the most random thing, but I know a lot of you are #boymoms so I want to hear from you if you've done this.)
But seriously, this couch.
I'm so happy about it.
(And it was less than $700!)
The other great thing is, if we ever want another color (like, my dream of white), we can just buy a new cover for like $150 and it basically feels like a brand-new couch.
So there you go, my friend. That was my quest for a kid-proof couch, and I'm so glad we dropped the $700 to have a cozy spot that doesn't smell like pee.
Yet.
What's your best rec for a kid-friendly couch? Head to the Facebook page to tell me! And again, BTW, this is nooooooot a sponsored post.