Of course, no day with young children goes according to plan. But this particular day was a confusingly-ridiculous mix of equal parts cute, terrible, frustrating, fun, horrific, awesome, embarrassing and adorable. With a side of uncomfortable and hilarious.
First, a stop at Starbucks. "We are such awesome parents. Let's stop to get a donut each for the kids." It's the hubby's last holiday vacation day, and we're making the most of it with a family day on the boat. We smugly drink our Pike's Places, as the toddler exclaims, "Donuts are my day!" from the backseat.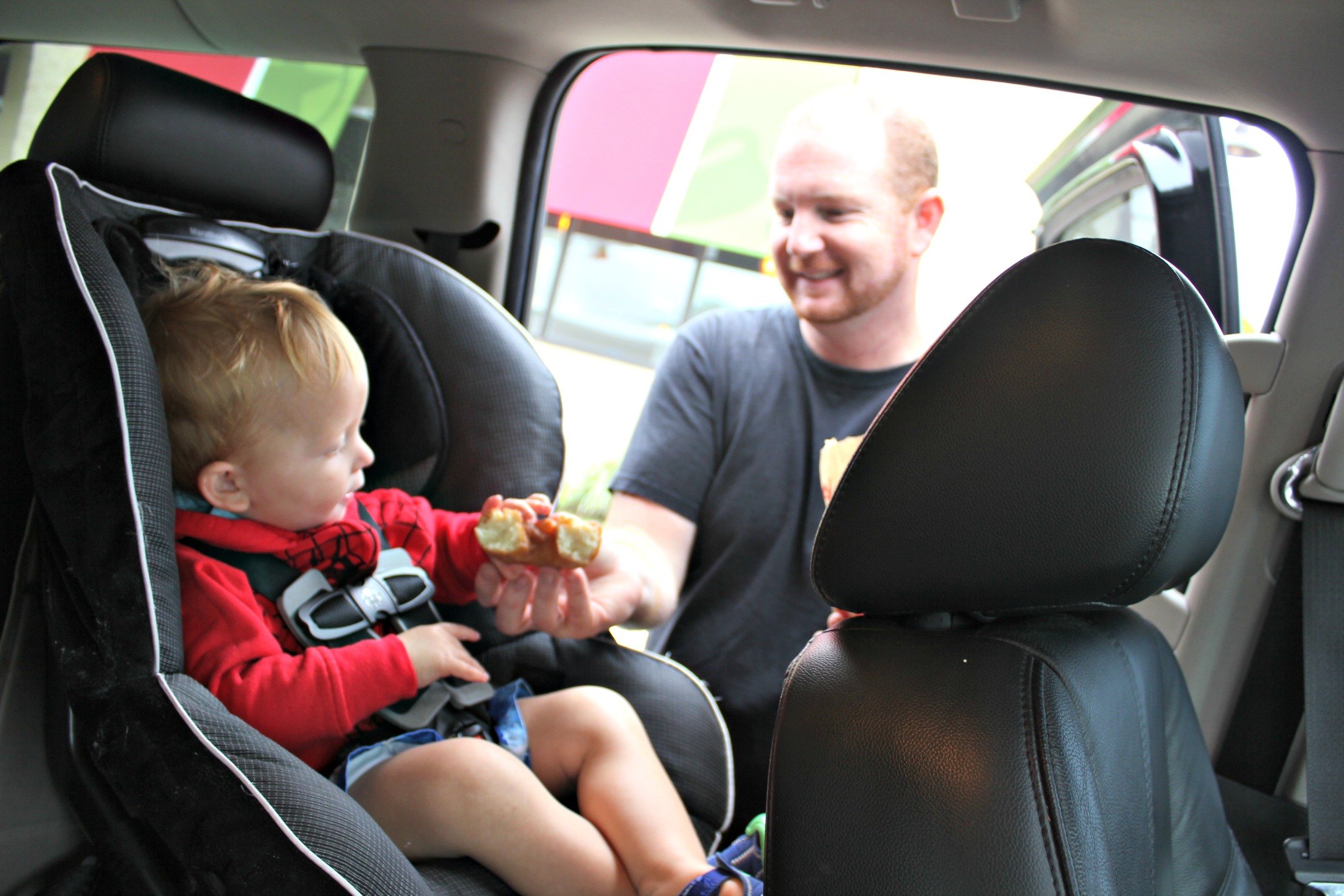 Our grins fade as we pull up to the boat ramp and can't see more than 50 feet in front of us. The fog is thick. And it's freezing. Too late to turn around. We've already packed the whole house. Crap. All I brought are light jackets for everyone.
Our spirits remain high, even as we realize we forgot to pay for parking, and the nearest pay station is a football field away. Keep the faith. There are pelicans.
Up next, a miserably cold and wet 10-minute boat ride, although there is a show of cuteness on my belly.
And then, like the lost paci, found after months of dwelling at the bottom of your diaper bag, a small sliver of land appears amidst a clearing in the foggy nastiness. All is not lost. We anchor. The baby gets wet on the debark and is every bit as miserable as he looks. (Mom did not pack extra clothes either. #fail)
We make to land, where I manage to capture some extremely rare (and adorable) moments in the study of toddler behavior: sharing, holding hands and even a kiss. (Be still my heart!)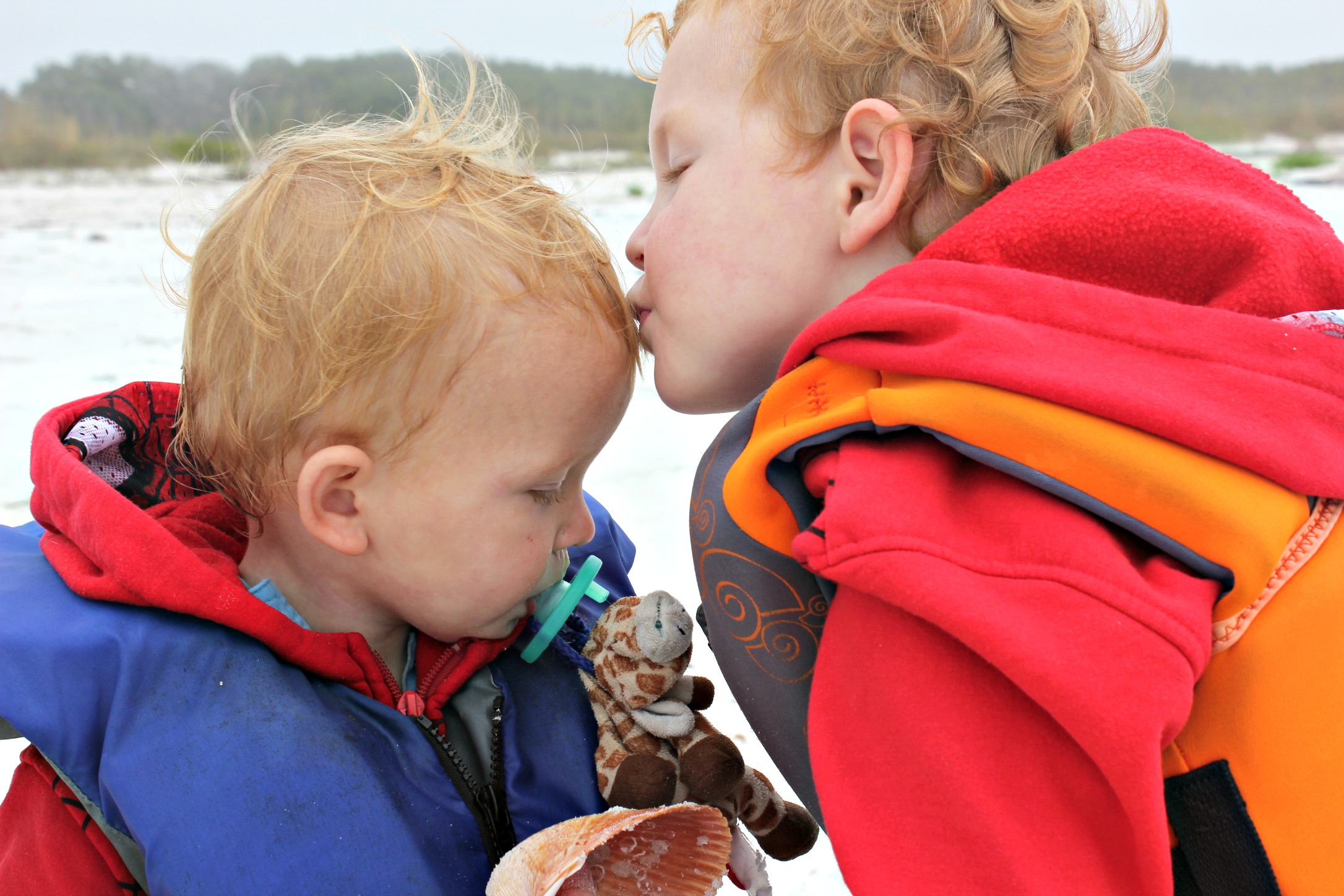 Next up, an ill-fated family photo with our camera's self-timer. (Yet remarkably fun to edit.)
The good luck persists, as I collect shells with my babes and even manage to eat my lunch sitting down. Things are looking up.
We get back in the boat, and against my wishes, the husband decides to drive 30 minutes into the middle of the Gulf of Mexico to find a fishing spot. It's freezing, dark and gray, but on the upside, the baby falls asleep. On the down side, the dog barfs in my lap. I wipe it up with a towel (a move I will later regret, as dry towels become an issue).
My protests grow more, um… vocal, and husband aborts middle-of-Gulf fishing plan. We start the foggy, wet, cold, gray, miserable trip back to land. Those waves hath no fury like that of a woman scorned.
By the time we can see our island, the baby is so cold that hubby gives him his jacket. (The baby pees on me mid-change, but it doesn't even phase me at this point.) So, in case you ever wanted to know, this is what a 20-month-old looks like in a men's XL jacket. We now have no dry clothes.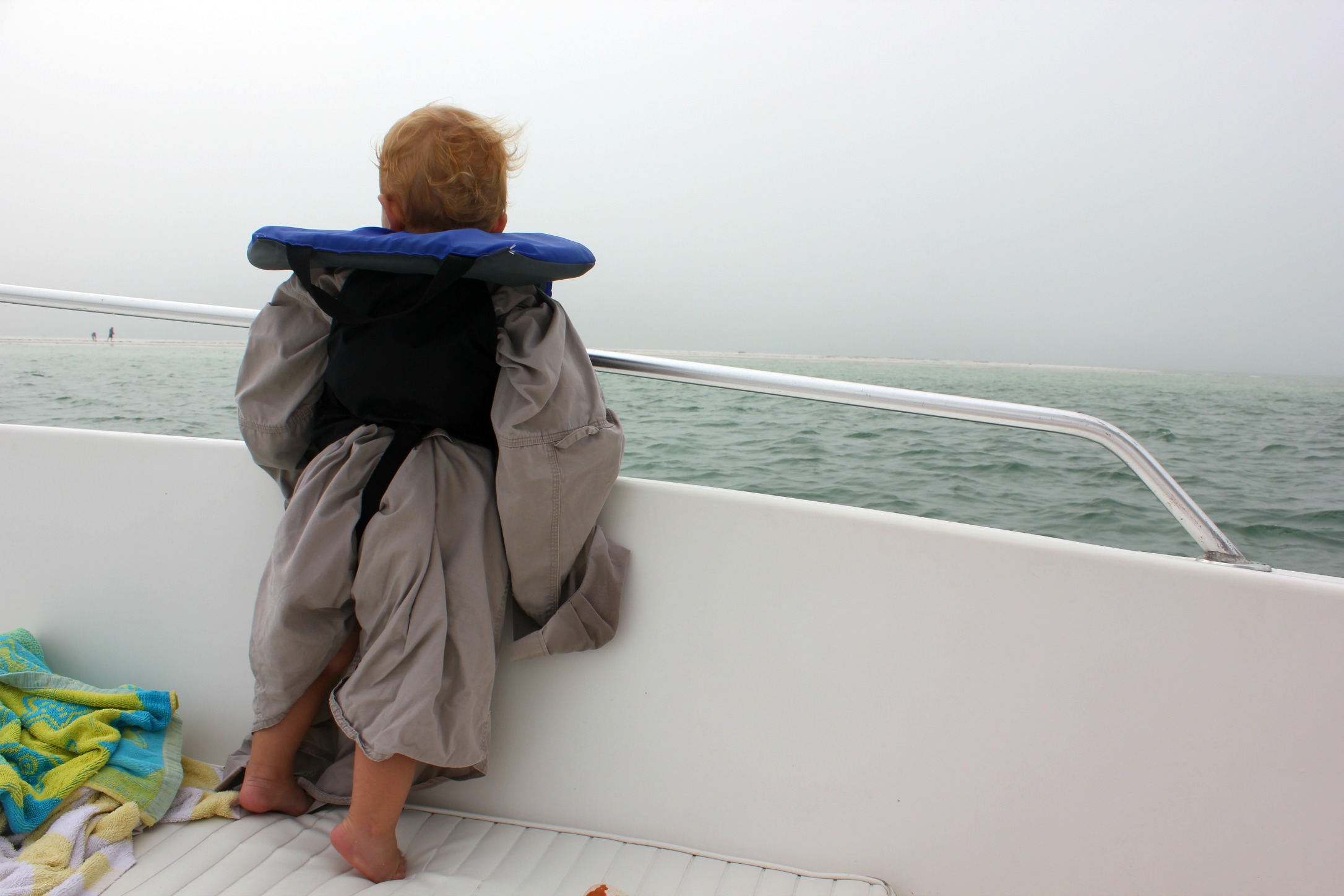 Fishing poles come out, along with the sun, and we are all happy. If anyone were closer, they might have seen a pregnant woman peeing into a Starbucks cup. We're having so much fun we don't even notice my husband's coffee-stained, ripped shorts (another casualty of the day, exact cause unknown). The dolphins play for us, and the toddler names our tiny sea bass "Jack Flynn." Things couldn't be better.
We pull back up to the beach, and although Fish & Wildlife has prohibited dogs from this island, they neglected to put up a sign that bans potty-training toddlers, which is arguably a breed more likely to leave an unsanitary mess. Husband cleans him off in the water, and we have an awkward parent moment when a woman walks along the shore near us and does a double take at a dark blob, bobbing in the water. Yeah, keep walking.
Back on the boat, the sun was just warm enough to shed our soaked, cold clothes and let them dry out from the day.
On the plus side, the forecast looks better tomorrow.