It's an exciting day! You're about to read our very first inspirational story in a brand-new section of SheJustGlows.com, called "You Glow Girl!" It's all about sharing successes and being inspired by other women who have accomplished their goals, whether losing weight, facing addictions, overcoming fears or deciding to finally do something they've dreamed about for years.
In the last year, I've watched Terra transform into a lighter, healthier, stronger, and most importantly, happier, more joyful, confident person. You're about to read how she went from "I'm not a runner" to running a marathon; how she finally got the courage to wear a bikini in public; and ultimately, how she completely revamped her life to lose 35 pounds, 6 dress sizes and an old, worn-out I-can't-do-it attitude. And all without a gym membership.
And it all started with one small choice.
To change.
My name is Terra, and I am 33 years old. I have been overweight since I hit puberty. I always say: "When I hit puberty, I grew out and not up." I'm only 4'11″! Last year, I made the choice to take control of my diet and weight. I had three goals: to get down to 110 pounds, to be comfortable wearing a bikini (for the first time since pre-puberty!) and to get a flat belly button.
This is my journey.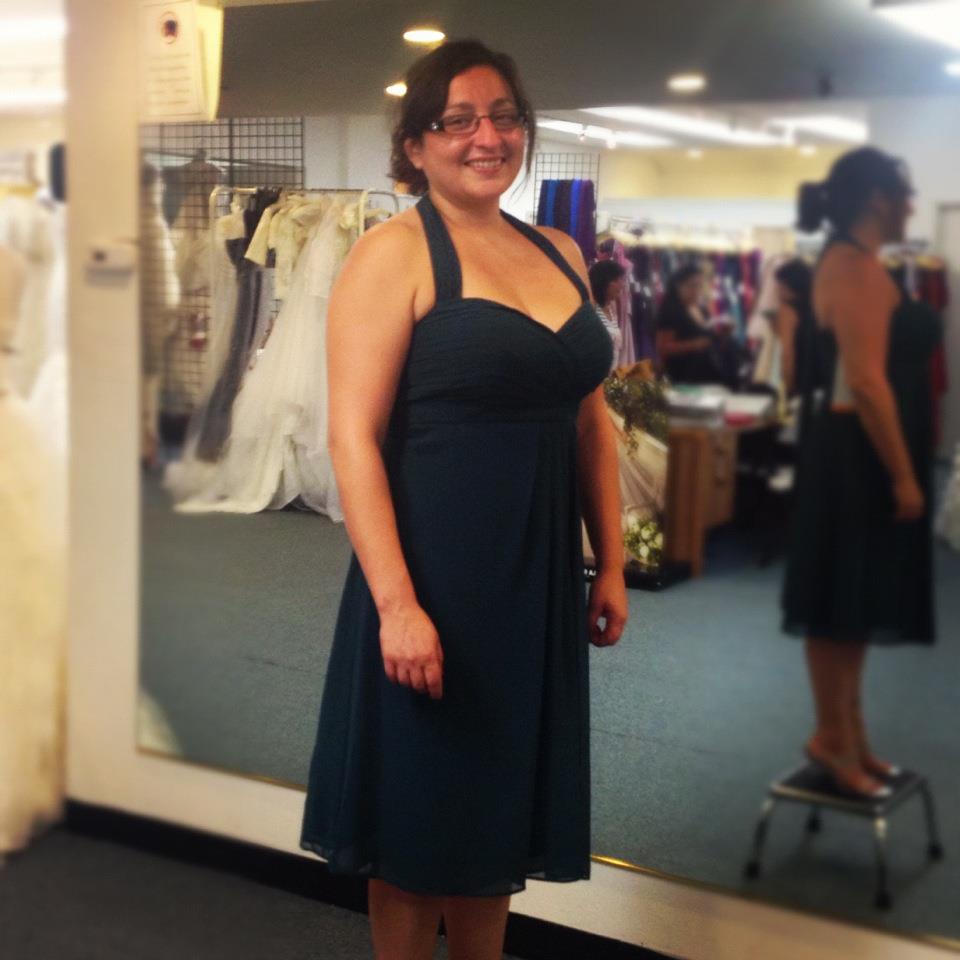 It all started last February, with this slightly-tight, maid-of-honor dress I tried on for my best friend's wedding. The dress fit, but I wanted to be comfortable after eating and drinking. I also knew I was going to be standing in front of at least 100 people during this wedding. I decided that I wanted to lose half an inch before her wedding.
For the next month, my neighbors and I did the 30-Day Shred workout video by Jillian Michaels. We worked out every day and followed her diet plan. After a lot of teeth-pulling, one of my neighbors also convinced me to start running, in addition to the workout video. Come wedding day, I had lost 5 pounds, and my maid-of-honor dress was now big on me. Oops. At the end of 30 days, I had lost 7 pounds and 4 inches. Needless to say, I was stoked and motivated.
Later that month, I had a few friends running the LA Marathon, and I met them along the race route with supplies. As I stood there, I was watching all the different shapes, sizes, and ages of people running and walking by. I thought to myself, "If they can do this, so can I." (Remember, this is coming from the girl who didn't want to run.) Up at the finish line, as I waited for my friends, I watched other runners cross over that threshold. They were tired and weak but filled with accomplishment, with their medal draped around their necks and mylar blankets wrapped around them. I couldn't stop watching.
The next day, I heard about a race coming up in my neighborhood: the Hollywood half marathon and 10K. I signed up for the 10K, which is 6.2 miles. The most I had run in my life was 4 miles in high school. I asked myself, "What's 2 more miles?" In telling my neighbors what I had gotten myself into, I rallied up two of them to join me. And we did it.
After the 10K, I had lost about 10 pounds, and I was getting worried about plateauing. At this point, I had become very serious about eating right and exercising. A friend of mine finally convinced me to try the Insanity workout video, along with his "diet" for 90 days. It was the Paleo diet, also known as the Caveman diet, because it's eating only the things that we could hunt, catch or spear. All lean protein, vegetables, fruit and healthy fats like avocado, nuts, seeds and clarified butter. No dairy or grains.
I started doing it, and it totally stuck. It's become a huge part of my new lifestyle. It taught me how to eat natural, organic and grass-fed foods. And, it even taught me how to cook! I used to be the queen of boxed and processed foods, like Rice-a-Roni and mac and cheese… gross. Now, I cook just about every meal for myself (like these paleo zucchini pancakes, or homemade paleo soup with yams, carrots and seasoning). When I am craving something, I refer to a new blog I found and look for a paleo version of the recipe. I pack all of my lunches and snacks. And, now when I go out to eat, people think I am crazy because I ask what foods are cooked in, and I order food without bread, cheese and sauces. (I mean, seriously, who else goes to Pho restaurants and asks for no noodles?)
But don't get me wrong. I'm still human. I make poor decisions sometimes, and I pay for it for days after. For example, I went to my favorite restaurant a while ago and ordered their mac and cheese. I had been craving it for nearly 6 months and decided to just "go for it." It was delicious and satisfied my craving, but afterwards, I felt bloated, lethargic and guilty. However, I no longer crave mac and cheese.
After the two races, Jillian Michaels, and Insanity, I got down to 117 pounds, the lowest I had ever remembered being! As a matter of fact, for the first time since pre-puberty, I felt comfortable enough with my body to wear a bikini to the beach on the 4th of July. This was a lifetime dream and goal! I wasn't "perfect" and didn't have that "flat belly button," but I had lost 28 pounds in 4 months and gained enough confidence to wear that bikini in public. 
Next, it came time to sign up for my biggest challenge yet, the LA Marathon. 26.2 miles, crazy! I started training in September, but about 2 weeks into that, I injured my foot. Mind you, I am a starving artist with no health insurance. I made an educated guess on my injury and took a month and half to let it heal and did exercises to help strengthen it. Then came the holidays and traveling across country to help my sister and her 9 kids move. (Yes, 9 kids! I get the struggles now of being an active and healthy parent. I failed.) Between injury, travels, and the holidays, I gained almost 11 pounds! And I knew why. I had exercised less than before (only resorting to running to help me escape the 9 kids); I had eaten all of the home-cooked food my sister placed in front of me (like this made-from-scratch pumpkin pie); and I'd caved to fast food (Wendy's was our go-to) as the only option to eat while on the road with all of those kids. I was feeling lazy, sick, lethargic, and was not happy about going up to 128 pounds after all that hard work.
Thankfully, when I returned home to Los Angeles in January, I had the opportunity to get involved with an infomercial for a workout product. I hit it hard. For 10 weeks, I was going to an hour-long workout class 5 days a week (for the infomercial) and then running 20 to 50 miles a week on my own to train for the marathon. Shooting the infomercial was fun. Some days we even dressed up to really get into it. They also had us on a diet plan, so I stuck with my paleo.
In that time, not only did I reach my initial goals I set a year ago, but I also learned more about myself than I had ever expected. In those 10 weeks, I watched my physique transform. I lost 19 pounds, 16 inches, and 9 % of my body fat. I was now down to 109 pounds. (A pound below my goal weight!)
And then, on March 9, 2014, I ran my first marathon. My life's biggest accomplishment yet. I pushed my body and mind further than I ever had before and ran with confidence across the finish line. Now I was that tired, weak, yet accomplished person with a mylar blanket and my own medal that was so inspiring to me a year ago.
I still have work to do; I am close, but not there yet. All I want is a flat belly button. I am continuing to eat right, run, and workout everyday. One of the things that has kept me going from the beginning is: what I eat and the exercise I do are the only things I can truly control. I can't control who will hire me, the emotions I had from my first heartbreak, or the LA traffic, but I can control what I put in my body and how much I exercise.
Over the past year I realized that when I put my mind to it, my body will prevail. In a year, I have changed my entire lifestyle. I changed my diet, lost a total of 35 pounds and went from a size 16 to a size 2. I did several home workout videos, a workout infomercial, ran 2 10K's, a half marathon, and a full marathon. All of this was achieved without a gym membership (my old excuse), and all are things I honestly really never thought were possible for me.
Throughout this journey, I had no idea I would inspire so many people. From my neighbors, to people across the country and world, to close friends, and only acquaintances. The fact that I could be so inspiring to motivate people to want to change their eating habits, start exercising and just better themselves from watching me is so much more rewarding to me than the results I have seen in myself. Inspiring people not only makes me happy, it keeps me motivated to keep myself in check. Everyone is counting on me and cheering me on.
Today, I am happier and healthier than I have ever been. And I feel amazing. I have 18 people checking in with me about diet and exercise. In fact, I am looking into personal training as a career. I hope my journey will inspire you to go for your goals no matter how big or unattainable they may seem. You really do have it in you to accomplish them if you set your mind to it!
You glow, girl! Terra, you really made us all believe in ourselves again. If you'd like to send a message to Terra, please do so in the comments section below.