How I got into the best shape of my life
There's a Facebook Live waiting for you at the end of this post, where I share more about how small choices helped me lose 40 pounds and answer your questions about the Your Best Body Challenge which starts January 31.
Over and over, I vowed it was my last day one. Here's how I finally changed for good.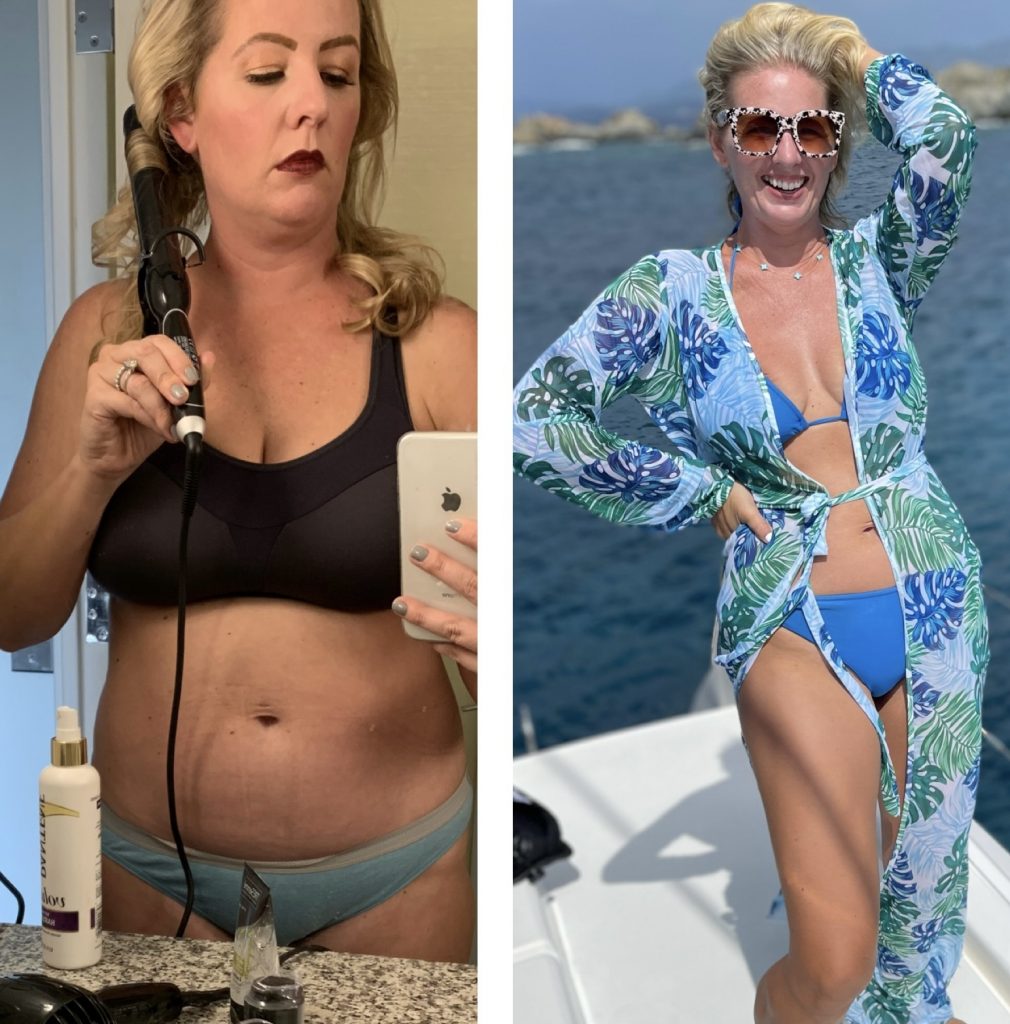 This was me on December 31, a few years back.
I vowed as I curled my hair for a big night out that this was the last night. My last night of eating and drinking things that made me feel gross.
I put on a bunch of makeup and tried to curl my hair to psyche myself out. I wanted to feel beautiful. But I knew I'd soon be stuffing myself into a dress that would do anything but stop this puffy, bloated and defeated feeling.
The truth was I felt stuck in my body and I knew why.
I was making choices that were out of alignment with the person I knew I was inside.
Our kids were so little that every second was interrupted by their needs. They were hungry, they needed a diaper change, someone was crying again.
It was all I could do to grab a handful of Goldfish or drain a glass of wine and keep going.
I get it.
I've been there.
It's hard.
But you don't need to stay there.
It's the exact plan I've lived by for 10 years to get into the best shape of my life while raising little ones.
Slowly, I started showing up for myself in small ways.
I realized that if I wanted to feel more energy, and live life from more a positive frame, I needed to change the ground work of my life.
That meant starting my day with a workout before sunrise. Before the little ones needed me.
That meant taking the time to buy the healthy ingredients I needed to make a green smoothie when I was done. Rather than nibble on the kids' leftover waffles.
That meant righting my relationships and shedding the emotional stress that had caked itself onto my midsection.
And eventually, that meant pausing my relationship with alcohol for what's turned into a 9-month stretch.
Changing your life and your body doesn't have to feel overwhelming.
It's really just a series of small, daily choices.
It's that simple.
That's what we tackle, together, in the Your Best Body Challenge.
It's 6 weeks of meal plans, recipes, direct exercise guidance, daily emails and weekly Facebook Lives with mindset tools, water, sleep and even group accountability in a Facebook group with ladies who are in the exact same spot as you.
It's one thing to give you a diet and exercise plan. But how do you do this within the boundaries of your life?
That's where the coaching and mindset strategies and tools come in! This is what you don't get in other diet and exercise programs.
Basically, I'm sharing the blueprint of the exact plan I've used for the last 10 years to get healthy, lose weight and take care of me while being a busy mom with lots of little kids and a husband who works a lot and no family in town.
This plan has helped me:
Lose weight
Lighten the emotional load
Build a life marked by gratitude
Sleep better
Improve relationships
Feel more whole
Start making healthy choices for you to live out the life you know you're capable of.
Are you the girl with the curling iron?
You can change.
Join us.
It's time.
Sign up here before the price goes up January 10. You don't have to stay stuck. I can't wait to see you there.